Would a Move to a Hospital Pharmacy Be Right for You?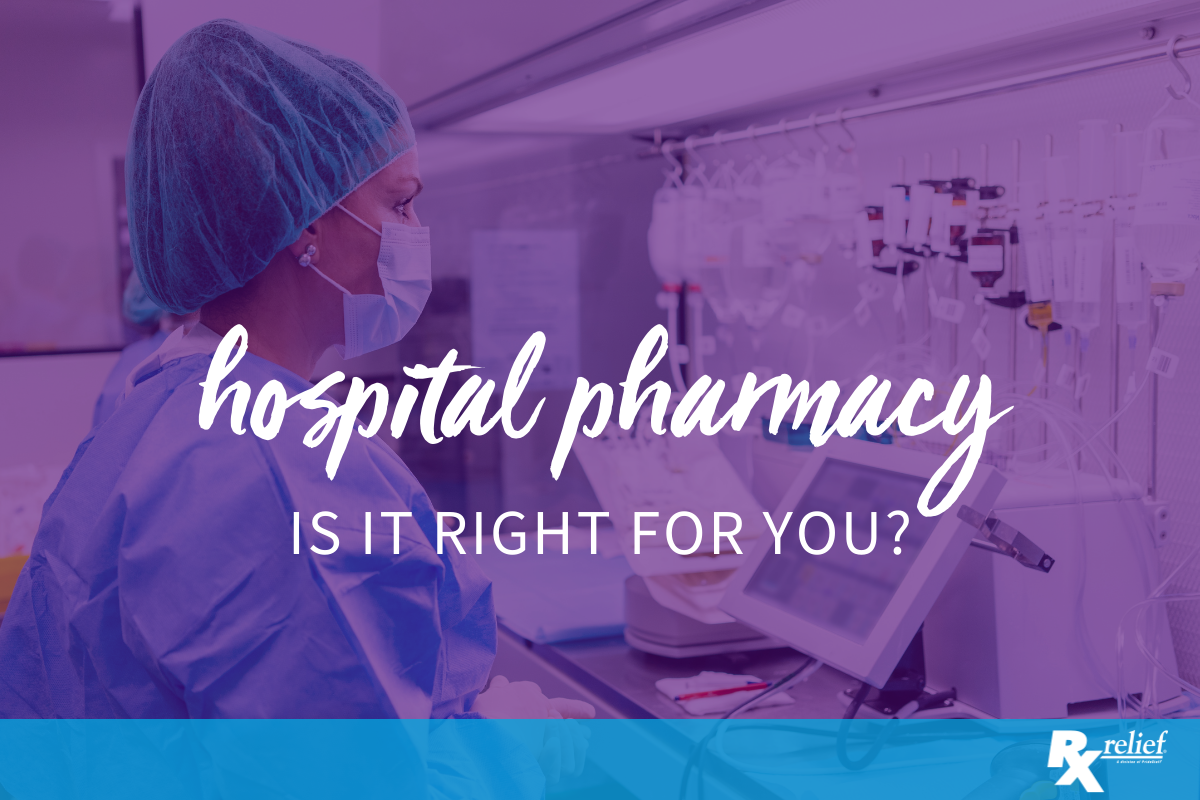 The role of the hospital pharmacist is a challenging one that goes well beyond dispensing medication. These healthcare professionals are considered an important part of the hospital team in treating patients. Here are some of the responsibilities of the hospital pharmacist.
Managing medications
One of the most important jobs of the hospital pharmacist is to figure out in what particular form the medication should be administered to each patient based on their particular condition. The pharmacist needs to work with doctors, nurses, and other health care professionals in making these decisions.
Hospital pharmacists keep tabs on patients to see how the medications are working and to make sure patients are informed about the effects of the drugs. The pharmacists also make recommendations regarding administration routes and dosages for particular patients.
Hospital pharmacists are responsible for checking all of the medications that are used in the hospital and oversee the purchasing, dispensing, and quality testing of all the medications used. They are also responsible for compounding medications when ready-made drugs are not available.
Giving advice
Another role for hospital pharmacists is providing information and advice to patients. The information can cover a range of issues, everything from the most effective combinations of medications, side effects of drugs, and the interaction of different drugs.
Checking drug charts
Drug charts are an important way for hospital pharmacists to exchange information with other health care providers. Hospital pharmacists need to check these charts routinely to make sure that the information on them is accurate and that the correct medication is being given to patients
Discharge
Hospital pharmacists also are involved in the discharge of patients. One of their responsibilities is to monitor which patients are being discharged from the hospital and review the discharge summary.
Pharmacists need to look at the drug chart and make sure it matches the medications that are listed on the discharge summary, and then they need to dispense the medication.
Knowledge
Hospital pharmacists usually deal with more complex medication issues. As a result, it is also important for them to stay current with all aspects of pharmacy, including the uses of drugs and any other developments.
They need to investigate electronic databases and read research papers in order to get the information they need about new drugs so that they can make informed decisions about recommending them for purchase by the hospital.
Looking for great hospital pharmacy jobs? We've got you!
If you are a pharmacist looking for your first job or a new career challenge, join one of the nation's leading pharmacist placement firms. Voted Best of Staffing by both clients and talent, Rx relief is a specialty staffing company providing supplemental pharmacy professionals for all pharmacy practice settings. As a member of our team, you'll enjoy a customized approach to your career needs as well as comprehensive benefits! Join our dynamic team, apply today!