What is a Pharmacy Technician?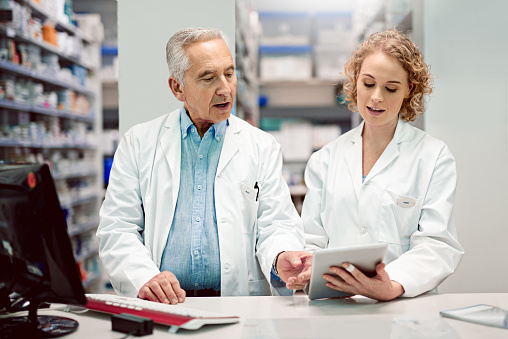 Pharmacy Technician Job Duties
In brief, the job of a pharmacy technician is to assist a licensed pharmacist in the dispensing of prescription medication. Pharmacy technicians work in both retail pharmacies and in hospitals.
The tasks generally associated with the job include gathering information necessary to fill a prescription, counting tablets and measuring the amount of medication needed for prescriptions, mixing or compounding drugs, packaging and labeling the drugs, taking payments and processing insurance claims.
Pharmacy technicians are supervised by pharmacists, who need to check all prescriptions before they are dispensed to patients. If a patient has questions or concerns, the technician is required to refer the patient to the pharmacist.
Pharmacy technicians also work in hospitals and medical facilities, where their job focuses more on preparing different medications, such as intravenous drugs.
Pharmacy Technician Knowledge and Skills
Technicians should know how to fill prescriptions according to the directions given by the pharmacist, and how to determine insurance coverage for medications and check the accuracy of prescriptions before they are sold. They must also know how to reach insurers to discuss coverage, how to count, pour and mix drugs, how to write up medication history and order supplies.
Technicians should have a basic knowledge of brand and generic drugs, as well as the ability to work with pharmacy equipment and maintain records, check the supply of drugs and inventory for expired drugs, make labels for containers and prepare sterile compounds.
Other duties include filling automated dispensing cabinets, handling billing problems and locking up drug inventory. Pharmacy technicians must be able to work with patients, explaining payment alternatives, answering questions about prescriptions, maintaining patient confidentiality and handling an appeal when an insurer denies coverage.
Pharmacy Technician Job Requirements
The minimum requirement for becoming a pharmacy technician is a high school diploma. There are also postsecondary programs for pharmacy technicians. However, most states regulate pharmacy technicians and may require passing an exam or completing a training program to become one.
The median pay for technicians is almost $32,000 a year, according to the U.S. Bureau of Labor Statistics, and the number of pharmacy technician jobs is expected to grow faster than average.
Looking for a Great Pharmacy Technician Job?
At Rx relief, we take a personal interest in each of our candidates. Our staff is passionate about what they do, and works to find the right job for each person. Rx relief has received a number of awards for our service. Give Rx relief a call today.