Trust Is Essential: How To Build And Maintain It With Your Patients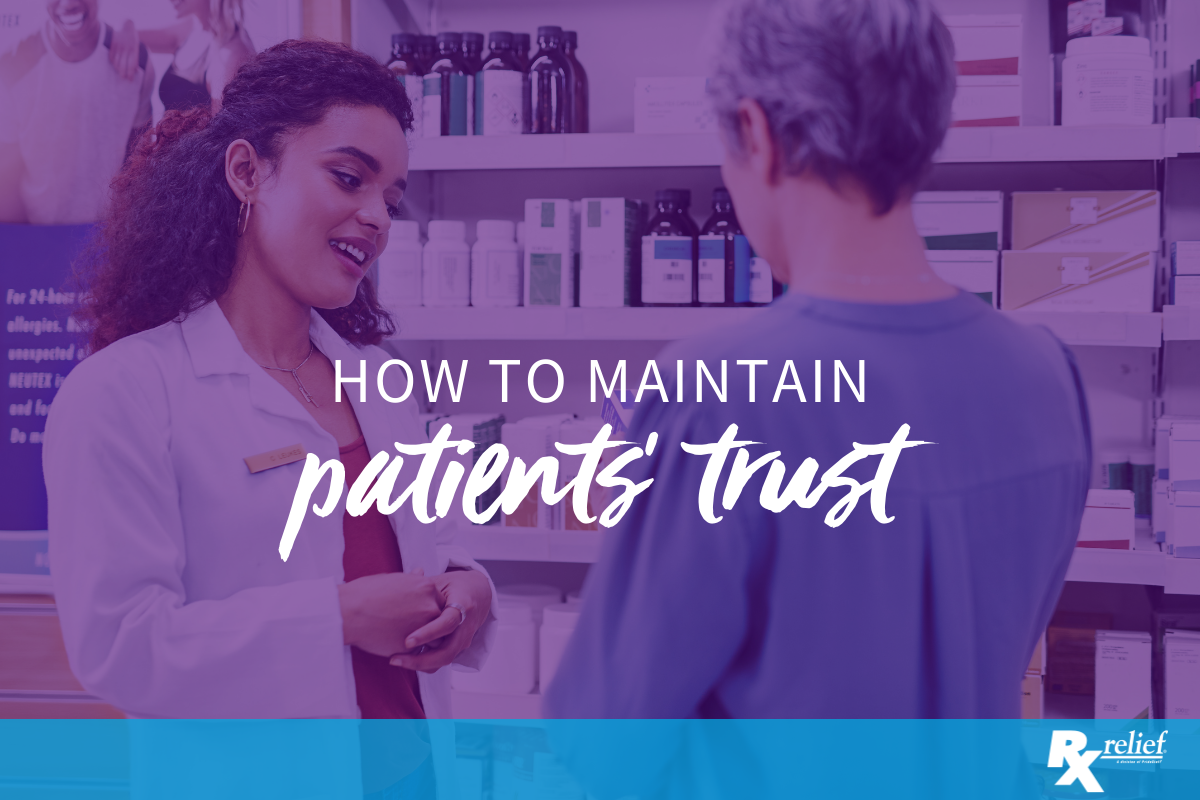 Maintaining trust with patients is crucial because the pharmacist will be unable to deliver the best treatment possible without it. When patients trust their pharmacist, they are more likely to confide in the pharmacist and reveal more information about their health issues. 
Patients are more likely to trust their pharmacist when they have faith in their medical knowledge, when they communicate effectively and honestly, and when they take measures to protect patient confidentiality. 
Here's how you can maintain trust with patients:
1. Continuing education.
To hold patients' trust, pharmacists must practice safely and effectively. Pharmacists need to stay up to date with the latest medical knowledge. In order to do so, they must continue with their training and professional development.
If a mistake is made, patients need to be informed about it as soon as possible. The pharmacist should give a clear and complete explanation of what happened. The pharmacy staff should be prepared to provide any information requested by the patient and provide the patient with any needed support. This will all go a long way toward maintaining trust with the patient.
2. Communicating well.
To maintain trust, the pharmacist must also communicate effectively with patients. They need to be sure that patients understand the information given to them. Pharmacists also need to take the time to listen to patients and their concerns.
Pharmacists need to give clear explanations and question patients to be sure that they understand all that is involved with their treatment. To do this, they need to use a conversational style, avoiding jargon and needless detail. 
3. Honesty.
The patients need to believe that the pharmacist is always acting in the patients' best interests. Pharmacists always need to keep their professional ethics in mind.
4. Confidentiality.
Patients also need to know that the pharmacist will make every effort to safeguard patient privacy. 
Staff should be trained in how to protect patient information and receive ongoing training in how to safeguard confidentiality.
When discussing sensitive information with a patient, you should have a designated private area to use. You also need to ensure that you have procedures designed to protect the confidentiality of patient records. 
Connect with Rx relief
If you are a pharmacist looking for your first job or a new career challenge, join one of the nation's leading pharmacist placement firms. Voted Best of Staffing by both clients and talent, Rx relief is a specialty staffing company providing supplemental pharmacy professionals for all pharmacy practice settings. As a member of our team, you'll enjoy a customized approach to your career needs as well as comprehensive benefits! Join our dynamic team, apply today!