Job Options to Improve Your Pharmacy Career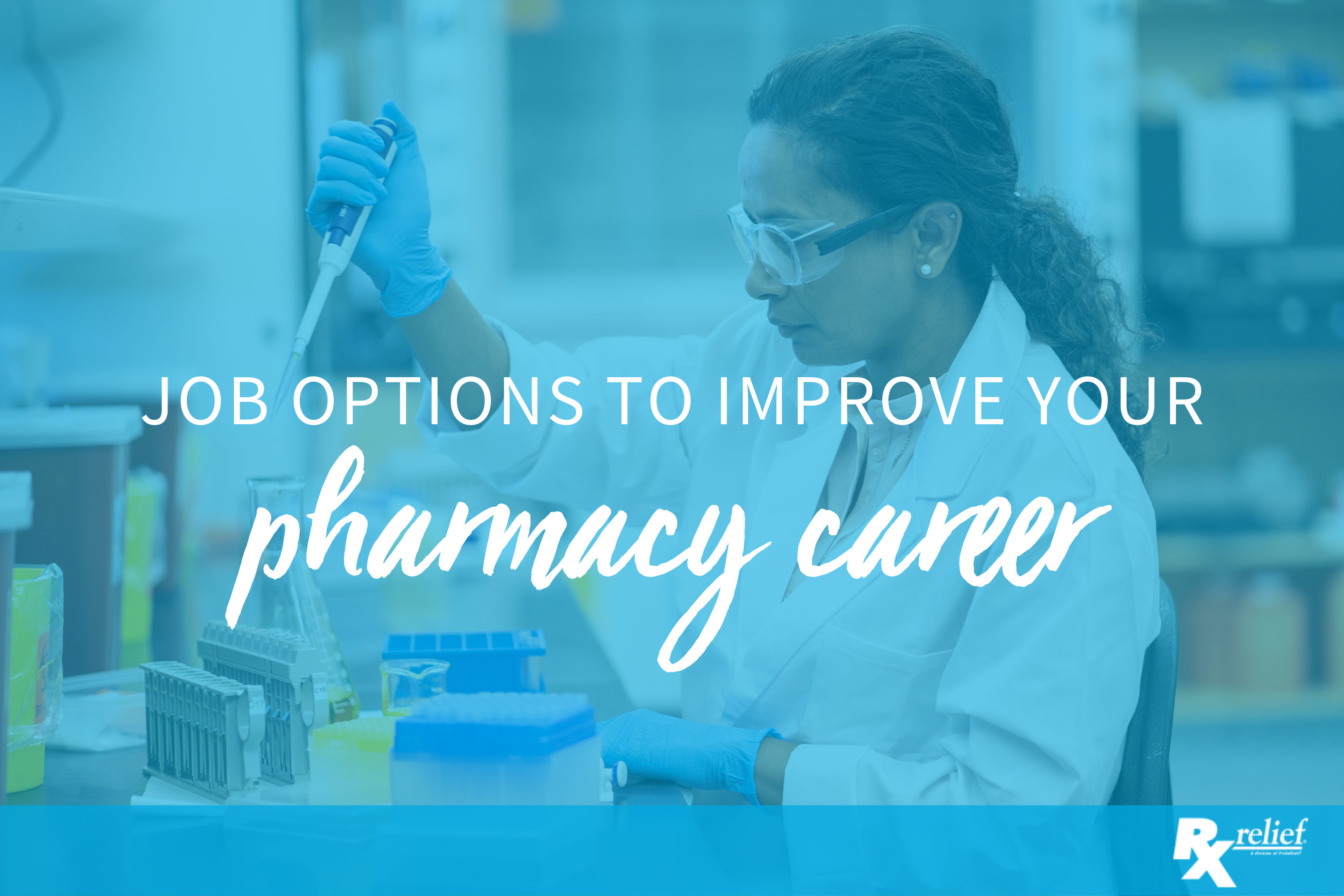 As the economy changes and technology advances, opportunities for pharmacists have exploded as well. While many still fill traditional roles such as community pharmacy, others establish connections to other fields like computer science, carving out new roles such as informatics.
Traditional Pharmacy Jobs
Traditional pharmacy jobs can offer a challenging and fulfilling career, especially since their roles are expanding as well. These jobs include positions in community pharmacy, either in a chain store or independent pharmacy. Other more conventional jobs involve working in a hospital pharmacy, in long-term care or hospice facility, as a mail service pharmacist, as a nuclear pharmacist, and working for a government regulatory agency or academia.
New Types of Jobs for Pharmacists
But there are now many less traditional roles for pharmacists because of advances in medicine. These include clinical pharmacy, cardiology, critical care, geriatrics, functional medicine, informatics, managed care, medical science liaison, pharmacy benefit management, and psychiatric pharmacy, among a range of other positions.
What They Do
Clinical pharmacists work with physicians and other healthcare professionals in providing patient care. They help to coordinate care among healthcare team members and ensure that medications produce the best possible results.
Cardiology pharmacists also generally work as part of a healthcare team in treating patients with cardiovascular disease. Cardiology pharmacists often deal with complex medication therapies to treat patients with several comorbidities.
Critical care pharmacists work in settings like intensive care units or emergency departments. In addition to dispensing medications in a high-pressure environment, they also monitor drug therapies, determine dosages, and handle medical emergencies.
Geriatric pharmacists specialize in dispensing medications for the elderly. They can work in ambulatory care, acute care, or long-term care settings.
Functional medicine pharmacists focus on the causes of disease – how and why it occurs, rather than just treating the disease's symptoms. They look at the entire body rather than just one part of it.
Informatics is the science of collecting, organizing, and analyzing large amounts of virtual data. Pharmacists specializing in this field use data analysis to improve patient care.
Pharmacists working in managed care generally work for health insurance carriers, PBMs, and other organizations to improve care for patients while making the most available resources.
Medical science liaisons advise other healthcare professionals on the uses and benefits of medications and provide experimental data about the medications.
Pharmacy benefit managers, organizations that determine what drugs patients can receive from their insurance carrier without paying additional costs out of their pockets. PBMs also negotiate drug discounts from the manufacturers.
Psychiatric pharmacists help healthcare providers make the best decisions about what drugs to provide to psychiatric patients. The pharmacist plays an essential role in this branch of medicine because of the complexity of these types of drugs.
Other unconventional areas now open to pharmacists include consulting, contract research, hematology, oncology, management, infectious disease therapy, pediatrics, research and development, and toxicology.
Connect with Rx relief
If you are a pharmacist or pharmacy technician looking for your first job or a new career challenge, join one of the nation's leading pharmacist placement firms. Voted Best of Staffing by both clients and talent, Rx relief is a specialty staffing company providing supplemental pharmacy professionals for all pharmacy practice settings. As a member of our team, you'll enjoy a customized approach to your career needs as well as comprehensive benefits! Join our dynamic team, apply today!