Five Ways to Help Your Pharmacy Team Stress Less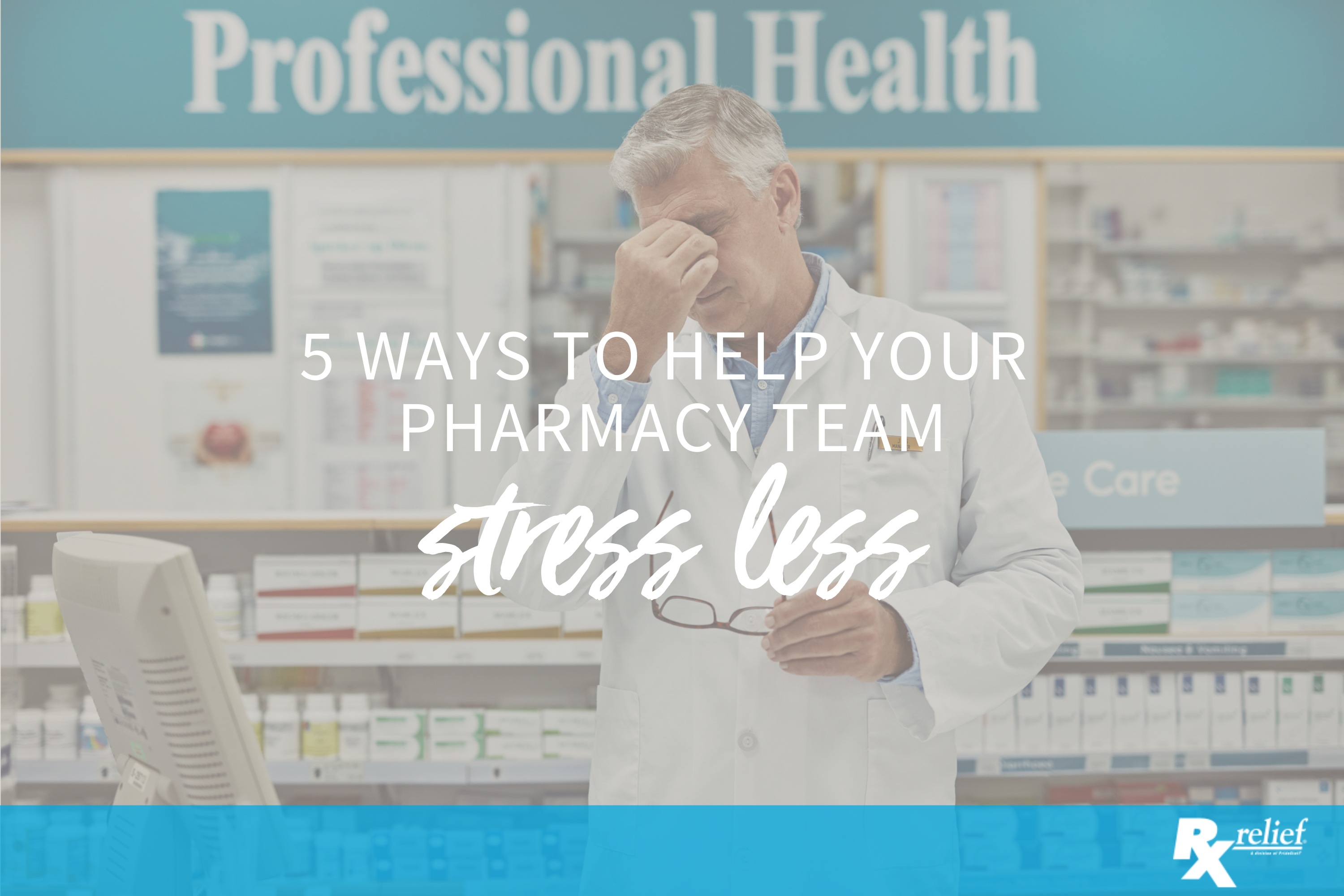 Pharmacists and their staff are under significant stress these days, more than in the past. Workloads are heavier. There is more paperwork and not enough people.
And the stress-inducing conditions are unlikely to abate any time soon as pharmacies take on new roles and responsibilities. Here are five ways to cope.
1. Deep breathing
This is a quick way to drop your stress level. The idea is to breathe deeply and slowly. Breathe in for a count of four, hold it for four counts, and then breathe out in four counts.
2. Stay organized
Having a disorganized workplace is a recipe not only for more stress but for mistakes and inefficiency. Naturally, the more smoothly and efficiently your pharmacy runs, the less stress you and your staff will have.
So, you need to keep your procedures and materials organized. Materials are things like your medications and paperwork. Having to hunt for documents will only increase the pressure and anxiety. You also need to have a system in place for your workflow and resist the temptation to cut corners when doing things.
3. Establish priorities
You also need to establish priorities – the most important and urgent tasks that need to be completed. Often people are very busy, but at the end of the day, they don't feel like they have accomplished much. That is because they are essentially wasting time on unimportant and less urgent tasks, things that can be postponed or even dropped altogether.
4. Don't procrastinate
When a problem arises, take care of it as soon as possible. The longer you wait to address it, the more stress it will cause. Talk to your staff about finding a solution for problems without delay.
5. Look after your health
You will be able to deal with stress better if you are in good health. Try to get enough sleep. Most people need seven to eight hours. Eat a nutritious diet with plenty of fruits and vegetables. Avoid fatty foods and processed foods.
And make sure to get enough exercise because this is a great way to reduce stress all by itself. Not only does it improve your physical health, it boosts your mental and emotional health as well. You can think more clearly, and you are in a better mood because of exercise.
Find Your Next Opportunity with Rx relief
If your healthcare organization is looking for pharmacists, Rx relief should be the first place you go. We have a track record of success in placing pharmacists, with the Best of Staffing awards to prove it. Give Rx relief a call today.