How to Decide Which Pharmacy Job is Right for You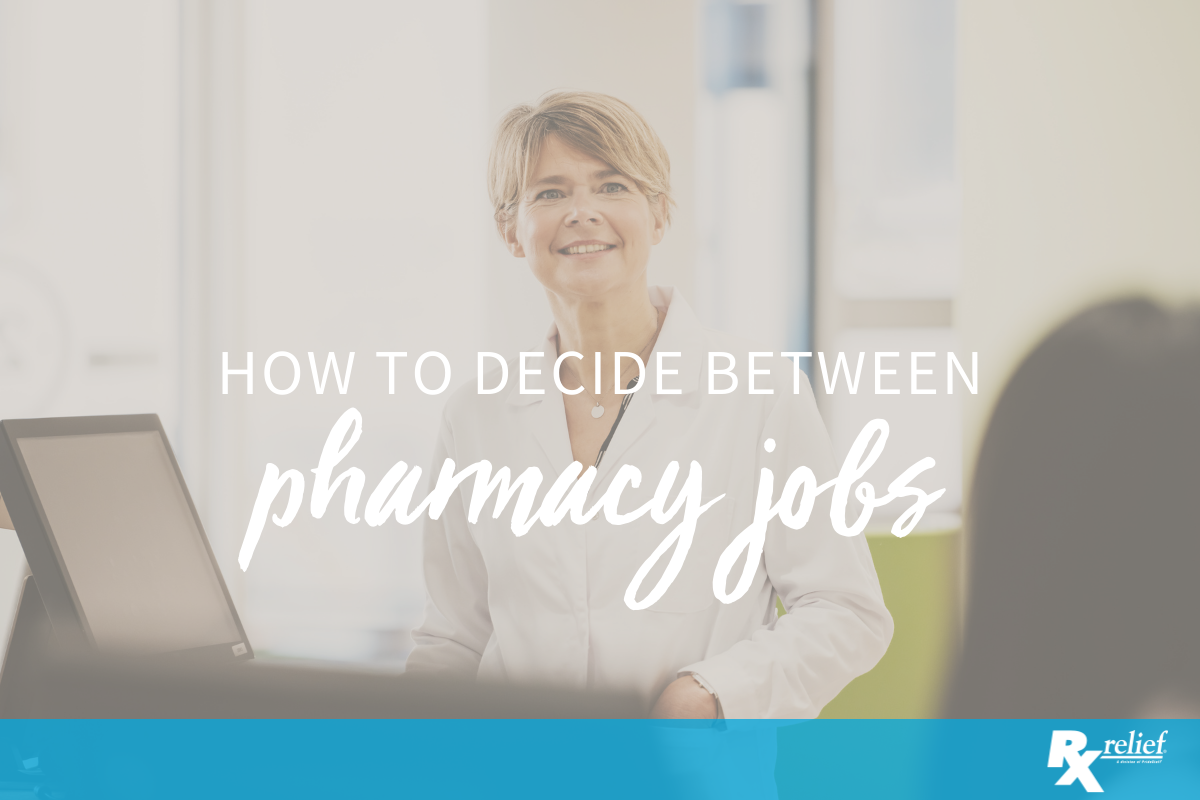 Healthcare is advancing rapidly. Medical knowledge is growing by leaps and bounds, and information technology is having a big impact on the industry.
As a result, the number of career paths open to pharmacists has also been expanding. Here are a few to keep in mind, especially if you are a new graduate.
Community pharmacy jobs
This is the most common pharmacy career. Almost half of all pharmacists work in this area. Working in the retail sector, pharmacists deal directly with patients, filling prescriptions, explaining how the medications are used, giving vaccinations, and answering patient questions and concerns.
Hospital pharmacy jobs
In this area, pharmacists can work in both inpatient and outpatient settings. Hospital pharmacists work as part of a healthcare team with doctors and nurses to make sure that patients are getting the medications they need at the proper dosage.
This type of pharmacy generally requires a higher degree of expertise because pharmacists are dealing with a greater range of medications for patients with more severe illnesses.
Long-term care pharmacy jobs
These pharmacists work in long-term care facilities for the elderly. The pharmacists put together the medications and treatments for the residents of these facilities, which include places such as nursing homes, assisted living, group homes, and rehabilitation settings.
Benefit management and managed care jobs
Pharmacists' responsibilities in this area can vary but may include such tasks as dispensing medications, monitoring the safety of patients, building clinical programs, and helping to manage costs.
Many of these pharmacists work for health insurance companies and also pharmacy benefit management companies.
Specialty pharmacy jobs
Many pharmacists work in areas that are similar to medical specialties. These pharmacists often have additional training and experience beyond the PharmD degree. Usually, a pharmacist license is all that is needed to go into a pharmacy specialty, but there are agencies that will certify pharmacists in many of the specialty areas.
Pharmacists can become certified in the following specialty areas– ambulatory care, critical care, nuclear pharmacy, nutrition support, oncology, pediatrics, pharmacotherapy, and psychiatric pharmacy.
Pharmacists can also work in a variety of other settings. These include work in government agencies that are involved in the regulatory process for medications, the pharmaceutical industry doing research and development on new kinds of drugs, and in medical communications, helping to educate other health care professionals and consumers about various types of medications.
Looking for a great pharmacy job?
If you are a pharmacist looking for your first job or a new career challenge, join one of the nation's leading pharmacist placement firms. Voted Best of Staffing by both clients and talent, Rx relief is a specialty staffing company providing supplemental pharmacy professionals for all pharmacy practice settings. As a member of our team, you'll enjoy a customized approach to your career needs as well as comprehensive benefits! Join our dynamic team, apply today!