How the Job of Pharmacist is Changing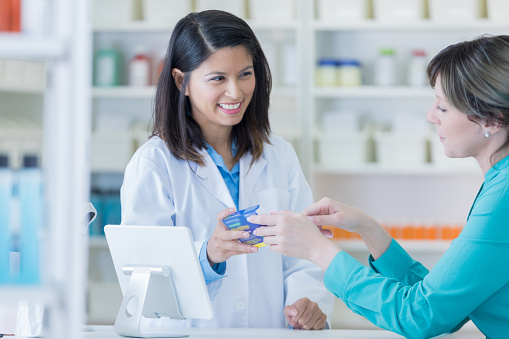 As medical care moves away from the fee-for-service model to a more value-centered endeavor, the role of the pharmacist is changing too. Pharmacists are working more closely with physicians in the delivery of care and with medication management.
Medication Therapy Management
This is an area where physicians are increasingly relying on pharmacists. Pharmacists who work with physicians or in hospitals are now visiting patients before they are seen by the physician to review and assess the patient's medications, thus enabling the physician to focus on other areas.
Expanding Role of Community Pharmacists
Community pharmacists are among the health professionals who interact with patients the most, and their role has been growing as well. They are now administering vaccinations, performing blood pressure screenings and counseling patients with chronic conditions.
They are also working with hospitals, counseling patients to increase adherence and reduce readmissions. At one hospital, for example, patients meet with retail pharmacists before leaving the hospital. At the meeting, the pharmacists review the medication regimen of the patients to make sure they understand what they need to take, when, how and why. Then, the pharmacists follow up to make sure the patients are adhering to the schedule.
Health System Pharmacy
Pharmacists are also carving out new roles in ambulatory care as more pharmacists are becoming certified in this area. These pharmacists work in clinical settings, such as outpatient care clinics, physicians' offices and pharmacies that are connected to long-term care facilities.
They are also taking on new roles in hospitals and physicians' practices. For example, at one Ohio site, pharmacists work in the physician's office as a part of the healthcare team. They make their own appointments with patients, taking medication history, counseling patients, adjusting medication regimens if needed and order labs.
A project at a Virginia health system worked to improve the health situation of patients, as well as to reduce the number of hospitalizations and emergency room visits, by using the expertise of hospital pharmacists, community pharmacists, clinical pharmacists and physicians.
Pharmacists working in clinics identified high-risk patients at discharge, and then coordinated care with physicians and community pharmacists
Pharmacists are also getting involved in working with seniors, conducting medication therapy management at nursing homes and long-term care facilities. In the managed care area, pharmacists are becoming more involved in utilization management programs for patients covered by Medicare Part D. Making sure medications are used properly can help reduce costs, helping healthcare organizations lower spending while at the same time increasing value.
Looking to recruit skilled pharmacists?
If your healthcare organization is looking for pharmacists, Rx relief can help. Rx relief is one of the top pharmacy placement firms, with the awards to prove it. Rx relief works with each pharmacist individually, partnering with them to provide the best service possible, and to find the job that best fits their needs. Give Rx relief a call today.