Hospital Pharmacy Career Outlook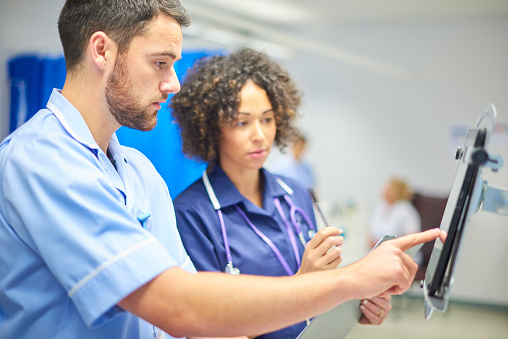 In the next eight years, pharmacy jobs are expected to increase by almost 18,000, according to the latest figures from the U.S. Bureau of Labor Statistics (BLS).
However, the growth will vary by setting – job increases in hospitals, physicians' offices and clinics will outpace those in retail pharmacies. The non-retail areas are expected to add more than 8,400 pharmacist jobs, while outpatient pharmacy positions are expected to grow by only 7,200 jobs. About 60 percent of the increase in non-retail jobs will be in the hospital pharmacy sector.
Job Growth in Hospitals
Currently, about 77,000 pharmacists work in hospitals and clinics; about one-third of all pharmacists. That number is expected to increase to more than 82,000 by 2026, according to the BLS. That is an increase of almost 5,000 pharmacists, or more than 6 percent.
Estimates of hospital pharmacy job increases range from the previously mentioned 6 percent, according to the BLS, to as high as 15 percent during the next ten years, according to other health experts.
Reasons for Growth
There are several reasons for the strong increase – the aging population, the growth in new medication therapies, expected growth in Medication Therapy Management. The number of hospitals where pharmacists provide medication management is growing rapidly.
In addition, the pharmacist's traditional job of measuring, monitoring and managing the use of medications in hospitals is substantial and growing.
Overall Job Outlook
Jobs at chain and independent pharmacies are only expected to grow by around 4 percent by 2026, an increase of about 5,400 jobs.
Among the individual states, Utah is expected to experience the largest growth in the number of pharmacists at 24 percent, followed by Colorado at 21 percent. Other states projected to have steep growth in pharmacists include Idaho at 16 percent, Florida at 14 percent, Oregon at 13 percent and North Dakota and Montana each at 11 percent.
The median annual salary for pharmacists is currently about $128,000 per year, according to Salary.com. They range from a low of $120,000 to a high of $136,500.
Looking for a great hospital pharmacy job?
Rx relief is one of the top pharmacy placement firms, with the awards to prove it. Rx relief works with each pharmacist individually, partnering with them to provide the best service possible and find the job that best fits their needs. Give Rx relief a call today.