Fired? How to Handle It in an Interview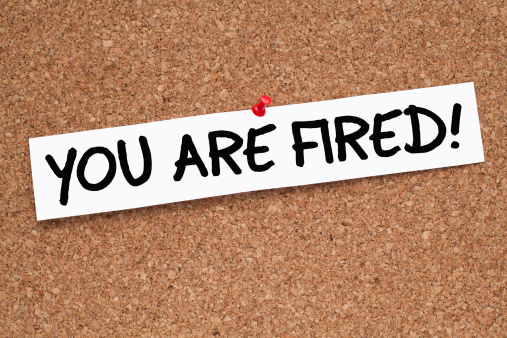 Have you ever been fired from a job (and we mean fired, not laid off)?
If so, you're in good company. Oprah Winfrey was fired from one of her first jobs. So was Steve Jobs (he was fired from the company he founded, Apple). As were Walt Disney, J.K. Rowling, Jerry Seinfeld, Robert Redford and many other successful people from all business sectors.
It's almost as if you're not somebody until you've been fired from a job.
But being fired still has a negative connotation in the work world. If you've ever been fired, here's how to handle the fact during job interviews.
Be upfront about it. You don't need to say it on your resume (just put the dates you worked at the employer), but if asked why you left, tell the truth.

Do so in as objective a way as possible. Employers understand that even great people sometimes aren't a good fit for a position (most people leave a job not because they can't do it, but because they don't fit in with the culture).

Before going on a job interview, take some time to calmly look at why you were fired and what your role was in being fired. No one is a perfect employee and one is rarely fired for absolutely no reason. So be upfront about the part you played in your firing.

Emphasize what you learned by being fired. If you were fired because you didn't have the skills for the job, say so and what you're doing – or have done – to acquire those skills.

If you had an attitude problem, say so, but also talk about how you know your attitude was wrong and discuss what you've done since then to improve it.

If you and your former boss had a major personality clash, say something along the lines of "we just weren't a good fit and able to work together." Talk about the good that came out of the situation and make sure you share some of the blame (it takes two to have a personality clash).

Never, never, NEVER badmouth a former boss. Always, always, ALWAYS make sure you acknowledge your role in your firing.
Aim to be the first to tell a prospective employer about being fired. Don't let a former boss (or the HR Department) tell a prospective employer about your firing when they check your references. Not only will the prospective employer be surprised you were fired, but it will appear as if you tried to hide the fact.
Once again, always be upfront, honest and acknowledge your role in being fired, what you've learned from it and what you've done to make sure you won't engage in any activities or attitudes that led to your firing.
When looking for a new opportunity as a pharmacist or pharmacist technician, look to the expert recruiters at Rx relief® to help you find your next pharmacy position. Contact us today.