Deprescribing and Why It's Becoming Commonplace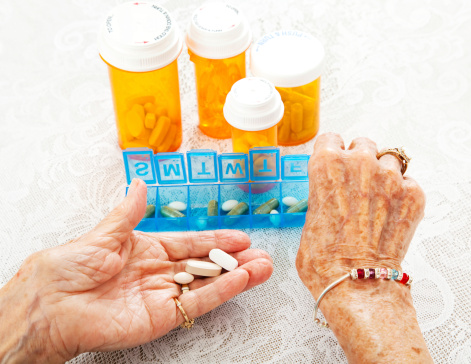 Deprescribing is a term that refers to the reduction or elimination of medication that could actually be causing harm to a patient, or a medication that is doing nothing to improve the patient's condition.
The purpose of deprescribing is to prevent harm and improve the patient's quality of life. It becomes an important issue for patients who have chronic conditions, for the elderly and for those who are not expected to live much longer. For all of these types of patients, some medications, or the combination of medications, could increase the risk of health problems, and the patients may actually be better off with fewer drugs.
Deprescribing becomes especially important when dealing with older patients, many of whom are on five or more drugs, a condition known as polypharmacy. Polypharmacy brings with it increased risk of adverse events, harmful drug interactions, falls, hospitalizations and cognitive difficulties. As a result, optimizing the medication regimen for these people through deprescribing is crucial to prevent problems, handle chronic conditions and improve outcomes.
Deprescribing can result in a patient taking fewer medications without any deleterious effects to the person's health. In fact, deprescribing may reduce symptoms the patient is experiencing, as well as increasing the patient's physical and mental functioning.
There is evidence that deprescribing improves the cognitive faculties of the elderly. Moreover, because many elderly take a number of different drugs, it can sometimes be difficult for them to follow a more complex treatment regimen. Deprescribing can make it easier for the elderly to follow their medication schedules.
Studies examining the effects of deprescribing for an array of different medications, including diuretics, blood pressure medication, sedatives, antidepressants, benzodiazepines and nitrates, showed the changes in medication rarely produced any adverse effects.
However, a patient who has undergone a reduction in medication needs to be monitored closely, in the same way as a patient who has just begun a new medication. Healthcare professionals need to monitor the signs, symptoms and diagnostic tests that caused the medications to be prescribed in the first place. Possible withdrawal effects also need to be closely monitored.
If you are a pharmacist looking for work, Rx relief is ready to help you. We are one of the nation's leading pharmacy placement firms. Rx relief has received Best of Staffing awards from both clients and talent. Find out what Rx relief can do for you. Give us a call today.