Contract Pharmacist Breaks $1.6 Million in Earnings!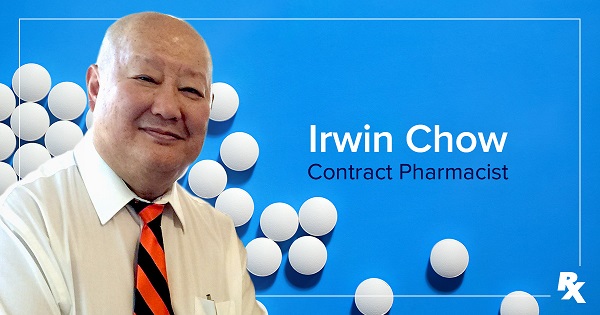 Flexibility. Challenge. Opportunity. Competitive compensation.
A pharmacy career with Rx relief provides all of these and more – but don't take our word for it! Recently, we caught up with Irwin Chow, a pharmacy professional who has worked on assignments through us for nearly 20 years. Here's a little background information on him, and what he says about his experience working as an Rx relief pharmacist:
About Irwin
Irwin has led an incredibly successful career as an Rx relief pharmacist. So successful that he has earned over $1.6 million working with us to date! This is a huge accomplishment, and we are privileged to have a professional like him representing our organization.
Q: Why did you initially seek employment through Rx relief?
Irwin: Because of the flexibility. Before joining Rx relief, I worked in supermarket pharmacies and found I enjoyed working in multiple locations. As a father with children in sports, I wanted a career where I could make my own schedule – so I could be there to watch their games. I knew that working as a float pharmacist through a staffing firm would allow me to schedule off the days I needed, and then make up those hours on other days.
Q: Why have you stayed with Rx relief for all these years?
Irwin: Rx relief has developed a solid reputation as a market leader. Their schedulers are courteous, and they have 24/7 assistance available when I need it. The salary I earn is competitive, and I'm also compensated for mileage and lodging when I take travel assignments.
Plus, I find that I'm treated very well by the direct staff when I'm on assignment. When I walk in to work, I'm often providing much-needed relief for the employer's pharmacy team. Whether they're short-staffed or just behind on their work, they're thankful for the extra help.
Perhaps most importantly, working on assignment through Rx relief has allowed me to have a fulfilling and meaningful life outside work. After hurricane Katrina hit in 2005, I took an extended period off to work as an intermittent employee of FEMA, assisting in disaster-relief efforts. I also do mission work in Thailand for two weeks every other year with a group of medical professionals from my church. We travel the countryside, working in local clinics to dispense medication and eyeglasses, and provide other vital healthcare services. Neither of these opportunities would've been possible without the flexibility I have as a float pharmacist.
Q: If you could give an early career pharmacist one piece of advice, what would it be?
Irwin: Keep an open mind about working through a staffing firm. A lot of young professionals don't know what kind of pharmacist they want to be or what type of setting they want to work with. Working through Rx relief allows you to try out different roles and environments to see what you enjoy most, while building your skills, gaining references and earning good money – without the commitment of a direct job.
Looking for the best pharmacy jobs?
Give Rx relief a call. As a Joint Commission Certified and GSA approved pharmacy placement firm with over 60 years of combined pharmacist experience, we connect talented pharmacists and technicians with temporary and direct positions in a variety of clinical settings and areas of specialization.
Rx relief is here to help you create a career path in which you make a positive impact on patient outcomes – while earning the compensation you deserve. Contact an Rx relief recruiter today, or search our job board to learn more about available opportunities.