Try These Time Management Practices to Make Your Team More Efficient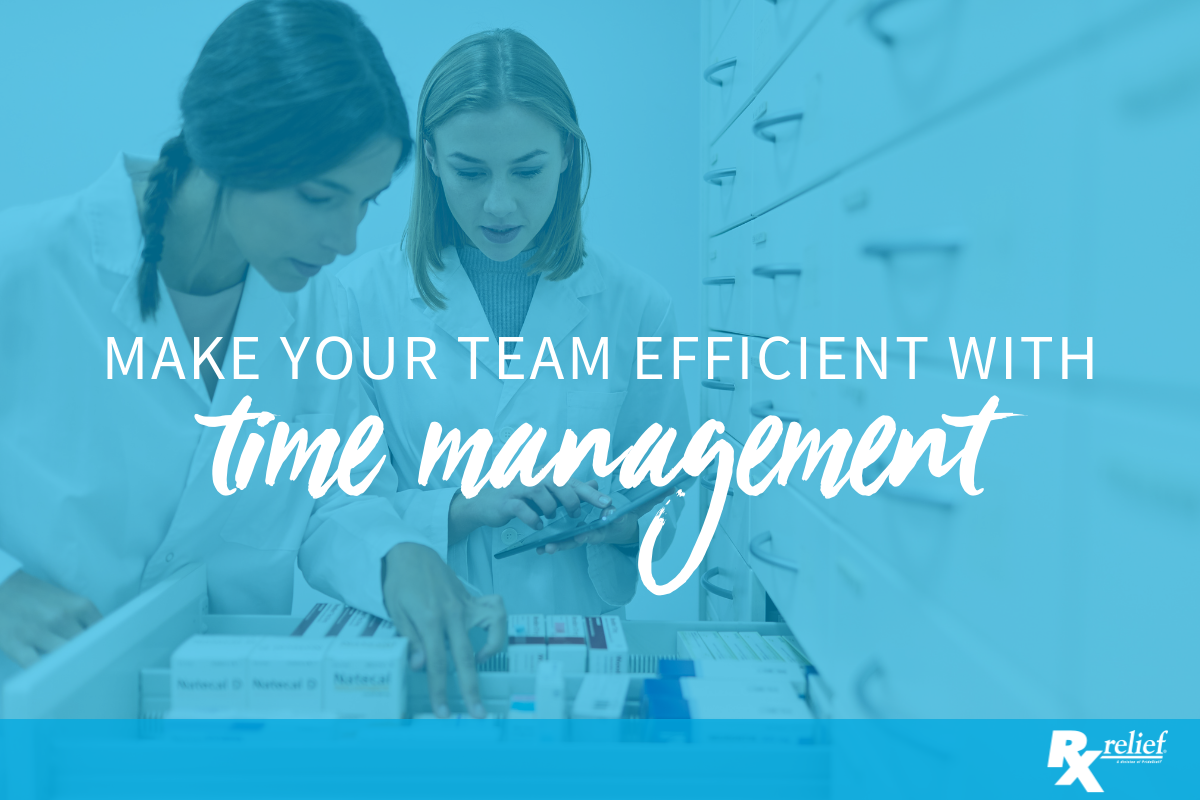 Everyone is looking for ways to increase productivity. Efficient time management is one successful way to do that. Here are a few time management techniques that pharmacy teams can use to increase their productivity.

Establish goals
When working on a project, everyone on the team should understand what the overall project goal is. Before you begin work, you need to plan exactly what the responsibilities are for each team member, determining what each person will be doing.
Then you need to set goals and deadlines. But you need to take care that the goals are realistic and achievable within the time frame you have established so that you don't overtax your team with excessive demands. The first step should be to break down big projects into more manageable parts.
The SMART system is an effective way to set goals. They should be specific, measurable, achievable, relevant, and timely. You should also have a step-by-step plan showing how you are going to reach your goals. Track the progress toward the goals. There are several different programs to help with this, such as Asana, Confluence, and Trello.
Review your progress to determine what worked and what did not, to make changes for the future.
Responsibilities should be clear
Each person's role in the project must be clearly defined, as are the tasks that each person is responsible for completing.
Plan for interruptions
Interruptions are simply part of life at work. Almost everyone is interrupted several times during the day. Someone may stop by your desk for a chat, send you an email, call on the phone, or send an instant message.
The best way to manage these interruptions is to clear time for them on your schedule. Set aside a designated time for checking email or chatting with coworkers, for example. Also, try and avoid unnecessary meetings. Often, people call a meeting to communicate something that can be handled with an email or phone call.
Handle conflicts immediately
Don't allow hostilities to simmer. The friction will only cause problems and hurt productivity. If a problem arises, take care of it right away. Human resource professionals recommend first, letting everyone vent their emotions, then having the team leader meet individually with those involved to determine exactly what the problem is. The best way to reach a solution is to avoid assigning blame to anyone. Look for common areas of agreement.
Rx relief Can Help with Your Staffing Needs
If you are an employer looking for pharmacists, Rx relief is ready to help you. We are one of the nation's leading pharmacy placement firms. Rx relief has received Best of Staffing awards from both clients and talent. Find out what Rx relief can do for you. Give us a call today.