The Pros and Cons of Retail Pharmacy Careers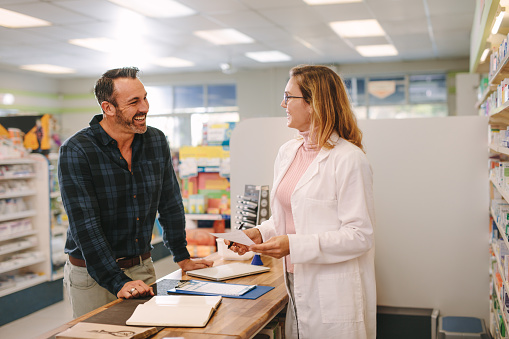 There are many different settings where pharmacists can work. On the most common is the community pharmacy. If you are a pharmacy student or just beginning your career, you may be wondering if this type of practice is the best for you. Here is some information about the advantages and disadvantages of retail pharmacy.
Working With People
This is one of the primary aspects of a retail pharmacy job. If you like working with people and meeting different customers every day, you would probably enjoy working in retail. Naturally, you are filling prescriptions, but you are also involved in other aspects of patient care – talking with patients about their medications, what they do, how to take them and avoiding drug interactions.
You work with patients to find the most inexpensive treatment available and maintain adherence. Pharmacists also deal with insurance issues, such as processing claims and answering patients' questions. A disadvantage, however, is community pharmacists may not have access to all the health information about a patient, the person's overall care by other providers.
Another downside is you also have to deal with people who have complaints or are otherwise dissatisfied with their physician, experience at the hospital or insurance. You need to have the skills to defuse such situations and find answers for their problems.
A Variety of Tasks
One advantage of being in retail is the variety of work you are engaged in. As a community pharmacist, you have to handle a variety of responsibilities. You may give vaccinations, get involved with medication therapy management that involves comprehensive medication reviews, meet with patients to review medications and set up short- and long-term goals. Part of the job involves establishing a drug utilization review approach, figuring out when you will need to contact a physician and how you will go about talking with patients about their medications.
There is also a business side to retail pharmacy, maintaining the office, handling a budget, workflow and inventory, and supervising staff. For someone with an entrepreneurial bent, this might be appealing. Working in retail, you will definitely be using a broad range of skills. However, the downside of this business aspect is some places are focused primarily on sales goals, and there is pressure to achieve them.
Another aspect of retail pharmacy that does not receive as much attention is the physical demands of the job. You are standing most of the day to do the work, which can be tiring.
Looking for a great retail pharmacy job?
If you are an experienced pharmacist looking for a new career opportunity, Rx relief can help you find a position that fits your skills and background. Rx relief is one of the best pharmacy recruiting firms in the business, with superior expertise and resources. We deliver personal attention throughout the entire job search process to our job candidates to insure they are successful. Give Rx relief a call today.