Ten Phrases That Are Holding You Back in the Pharmacy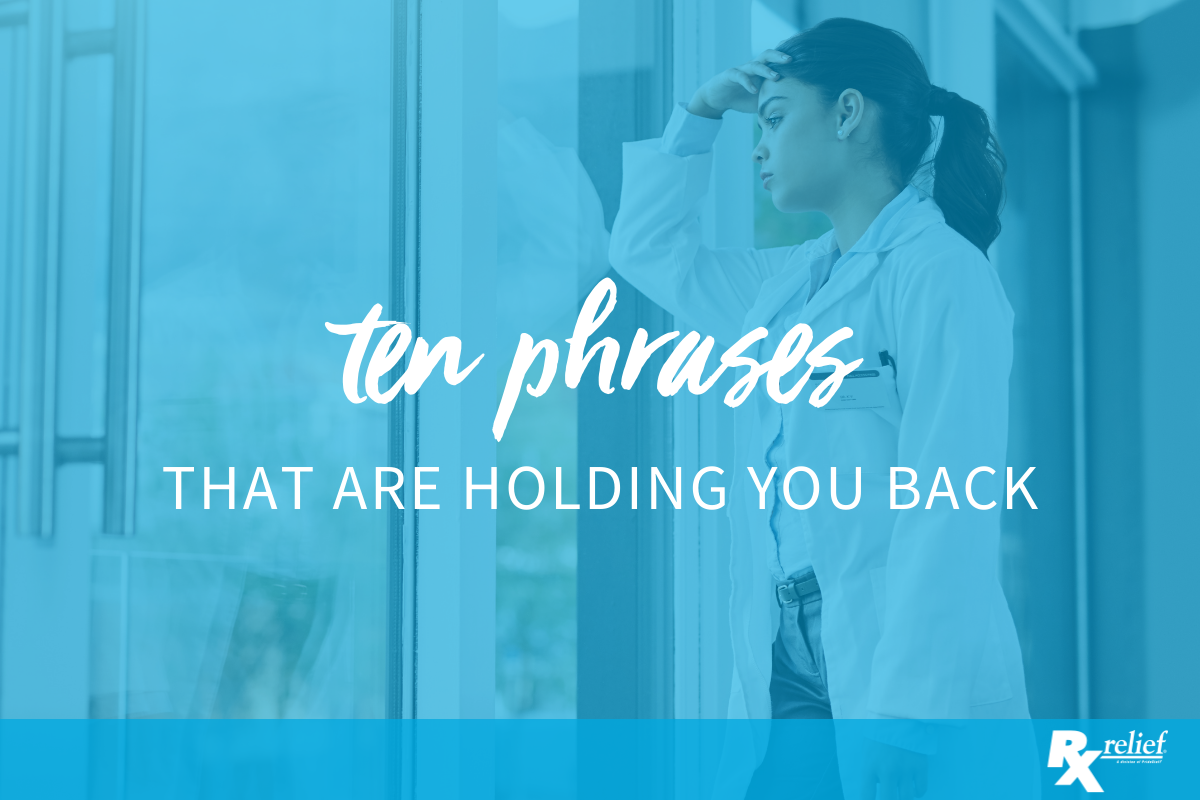 You may know people who seem to be stuck in a rut and unable to make any progress in their pharmacy career. Often, this is simply because of their attitude, one of defeat and negativity. You can identify people like this often just by the way they talk. You will frequently hear them repeat certain phrases.
If you find yourself uttering any of these phrases, some of which are listed below, it's time to step back and examine your own attitude about your work.
1. I have a problem with that.
When you hear this phrase, it is usually followed by a gripe that a person has about something or other, often a glitch that no one else has even noticed, but that, for some reason, really rankles this particular person.
It is evident that using this phrase too often is not going to win you any friends among coworkers and may impede your ability to collaborate successfully with others.
2. I like my own idea and
3. I already know that
People who use these phrases have a very high opinion of themselves and are not shy about letting others know it. But using these phrases also shows they have a rather low opinion of others.
Someone with this attitude is likely to crash and burn pretty quickly at any workplace because they will very soon find themselves ostracized by their coworkers.
4. You've got to be wrong about that and
5. I don't need your opinion
Again, this is something a know-it-all would say. It shows arrogance, a belief that they are the only ones privy to the real truth and that everyone else just doesn't get it.
Someone who says these phrases is unwilling to listen to different ideas and perspectives, which will not help them solve problems or finish assignments.
6. Let me check my schedule
Someone who says this too often may risk the successful completion of projects because they put their concerns above their team or coworkers.
7. That is not possible and
8. I can't
These phrases clearly show a defeatist attitude, someone who is easily intimidated by a challenge or problem. It shows a person without the courage, tenacity, or resilience to get things done. This is definitely not a go-getter, but someone loathes to venture outside their comfort zone. Needless to say, someone with this attitude is not going anywhere.
9. I can do it myself.
Similar to other phrases on this list, this statement shows someone putting their own interest above their team's. They may have an exaggerated idea of their own ability. But if they plan to tackle an assignment alone, rather than collaboratively, they will usually end up slowing things down.
10. Every little thing is important
Sometimes. But more often than not, a person caught up in the details generally misses the forest for the trees. They're losing sight of the overall goal and are losing sight of important priorities.
Find Your Next Career Challenge
If you are a pharmacist looking for your first job or a new career challenge, join one of the nation's leading pharmacist placement firms. Voted Best of Staffing by both clients and talent, Rx relief is a specialty staffing company providing supplemental pharmacy professionals for all pharmacy practice settings. As a member of our team, you'll enjoy a customized approach to your career needs as well as comprehensive benefits. Join our dynamic team, apply today!