Don't Get Burned Out: 3 Tips to Self-Care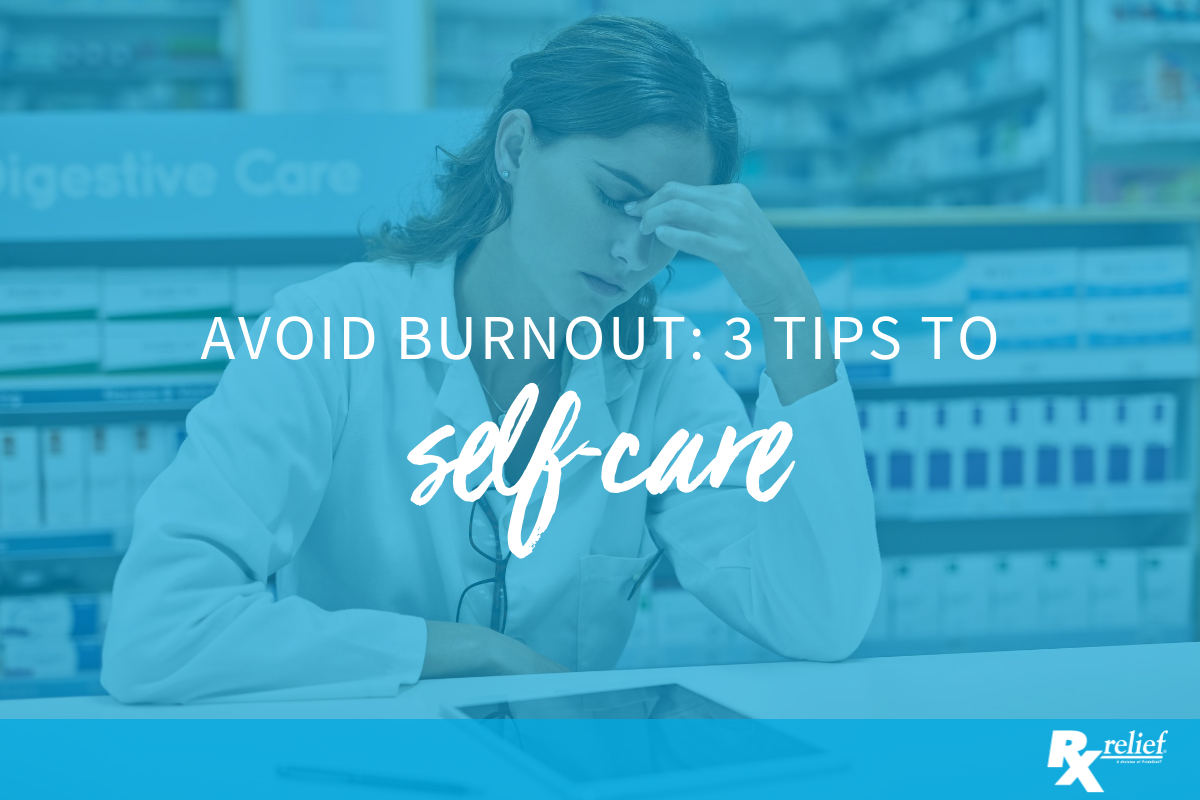 Pharmacists who are on the front lines of patient care are experiencing higher stress and anxiety. For this reason, they must take the time to focus on caring for themselves as well as their patients.
This is a time of considerable uncertainty, which produces a lot of stress, especially for pharmacists who like to have more structure. It's an entirely new situation for everyone. This is why self-care is so important. Pharmacists cannot neglect their well-being as they focus on the well-being of their patients.
Here are 3 ways pharmacists can avoid burnout.
Find Self-Care Strategies that You Enjoy
Self-care is different for each person. The important thing about self-care, whatever form it may take for you, is that you establish some realistic routine, something you enjoy and can stick with. Stress relief may be taking a daily walk or some other form of exercise, binge-watching Netflix, or meditating. The idea is to set realistic goals for yourself, whatever fits with your lifestyle and work. You do what you can depending on your situation. The important idea is progress over perfection. There is no right or wrong way to do it.If you begin to feel that your life is spiraling out of control, you need to hit the pause button, take a timeout and set aside some time for yourself to decompress.
Counsel Patients about Self-Care
Having a relaxing routine is essential when counseling patients about stress relief as well. You can highlight the importance of self-care through your example. You can share your own experience of your stress relief routine with patients, showing them that you practice what you preach. This also helps in building trust with patients.
Remember that Self-Care isn't Selfish
It is also essential to remember that you cannot help others if you are not taking the time to help yourself. Some may think that taking time away from patient care for self-care is selfish or unprofessional. Pharmacists are caregivers and want to help their patients. But pharmacists cannot care for others if they do not care for themselves first.
Looking for a Great Pharmacy Job?
If you are a pharmacist looking for your first job or a new career challenge, join one of the nation's leading pharmacist placement firms. Voted Best of Staffing by both clients and talent, Rx relief is a specialty staffing company providing supplemental pharmacy professionals for all pharmacy practice settings. As a member of our team, you'll enjoy a customized approach to your career needs as well as comprehensive benefits. Join our dynamic team, apply today!