Is Influenza on the Rise in the U.S.?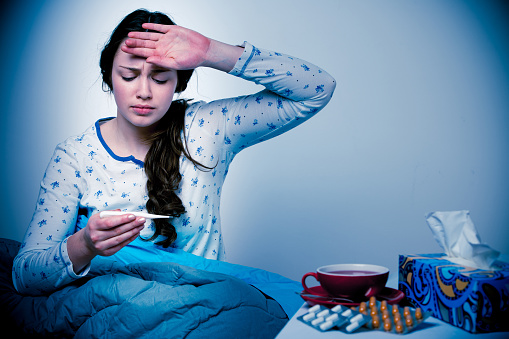 Cases of the flu were trending upward during the final months of 2017, according to the Centers for Disease Control. The increase began in November, and the number of cases reported for the month were higher than average.
Other indicators for flu activity were also registering higher. The most common strain of the influenza virus has been identified as A(H3N2). Most of the active viruses are genetically similar to the 2017-2018 Northern Hemisphere cell-grown vaccine reference viruses. In the past, when influenza A was the dominant virus, the vaccines were less effective, according to the CDC report.
Information about the virus was gathered from public health laboratories, where almost 9,000 specimens were tested during the months of October and November 2017. Among people who tested positive for the disease, almost 90 percent had type A, while a little more than 10 percent had type B.
Also, public health data showed that 70 percent of those from birth to age 4 who had the virus had type A. And almost 90 percent of those 65 and over who had the virus also had type A.
Viruses collected since the beginning of October 2017 were susceptible to antiviral medications currently on the market – oseltamivir, zanamivir, and peramivir.
During the months of October and November, outpatient visits for flu increased from 1.3 percent to 2.3 percent. During that same time period, more than 560 hospital visits for flu were reported. Deaths attributed to pneumonia and influenza from October 1 to mid-December accounted for roughly 6 percent of all fatalities. The disease is considered to be an epidemic when the fatality threshold hits 6.5 percent of total deaths.
An analysis of the 2016-17 flu season in Australia showed the vaccine used there, which is similar to the one used in the United States, was only 10 percent effective against the type A influenza.
Healthcare experts stress that antiviral medications need to be used as close to the onset of flu symptoms as possible for people who have severe, complicated or progressive illness, who need to be hospitalized or are at high risk for complications.
If you are a pharmacist looking for your first job or a new career challenge, join one of the nation's leading pharmacist placement firms. Voted Best of Staffing by both clients and talent, Rx relief is a specialty staffing company providing supplemental pharmacy professionals for all pharmacy practice settings. As a member of our team, you'll enjoy a customized approach to your career needs as well as comprehensive benefits. Join our team, apply today.