How to Choose the Right Pharmacy Setting for Your Career Goals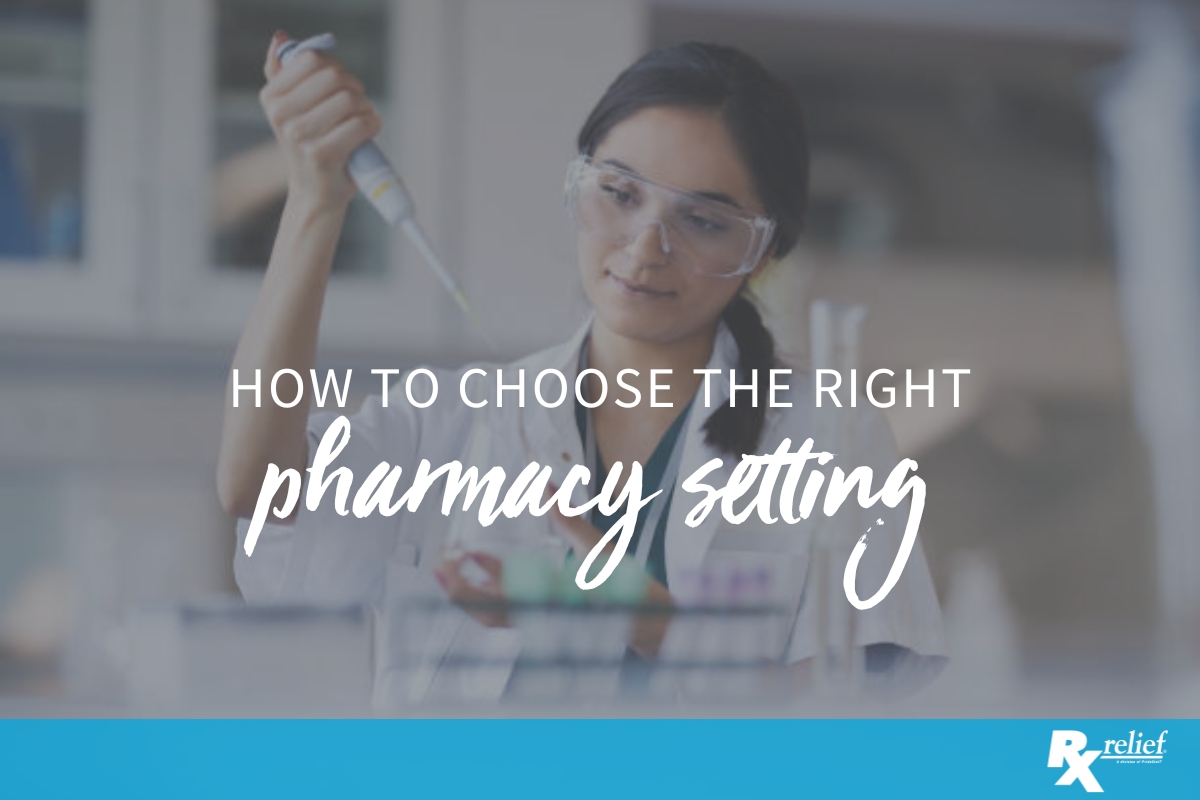 Most pharmacists work in the retail sector. But as healthcare continues to advance, many new opportunities have opened up for pharmacists. There are now a number of different career paths pharmacists can take depending on their particular interests. Here are a few of them.
Retail pharmacy
Pharmacists working in retail settings dispense medications to patients and provide counseling on the use of prescription drugs. This would be a more attractive position for pharmacists who prefer a lot of interaction with patients.
Hospital pharmacy
These pharmacists work with other healthcare providers, patients, and their families to make sure that drug treatment is safe and effective and administered when scheduled.
These pharmacists generally have more training because they are preparing and administering more complicated medication regimens.
Clinical pharmacy
Clinical pharmacists work as part of a healthcare team, providing patient care and monitoring the effectiveness of medication therapy.
Assisted living pharmacists
These healthcare professionals play an important role in providing medication management and consulting services to residents of assisted living facilities. Some of their key responsibilities include a medication review of each resident to ensure that the medications prescribed are appropriate, safe, and effective. They may also make recommendations for changes to the regimen if needed.
Assisted living pharmacists may also be responsible for administering medications to residents or overseeing the administration of medications by other staff members.
Consulting pharmacy
Consulting pharmacists work with healthcare providers and organizations to improve medication use and patient outcomes.
Industrial pharmacy
Industrial pharmacists work in the pharmaceutical industry, developing and manufacturing medications.
Nuclear pharmacy
Nuclear pharmacists prepare and dispense radiopharmaceuticals for use in medical imaging and therapy.
Academic pharmacy
Pharmacists working in academia teach and conduct research at colleges and universities.
Government pharmacy
Pharmacists working for government agencies regulate the pharmaceutical industry and conduct research.
Mail order pharmacy
This is a service where prescription medications are ordered by a healthcare provider and delivered to the patient's home or other location through the mail.
Customers usually are required to fill out a mail order form, or place an order through the Internet, phone or mail. Once an order is received, a pharmacist will review the order for accuracy, check for potential drug interactions and authorize the order. After that, the order will be filled and shipped directly to the customer.
Mail-order pharmacy services are often used by patients who take multiple medications, have chronic conditions, or have difficulty leaving their homes to visit a traditional pharmacy.
Looking for a pharmacy job in the right setting?
If you are a pharmacist looking for your first job or a new career challenge, join one of the nation's leading pharmacist placement firms. Voted Best of Staffing by both clients and talent, Rx relief is a specialty staffing company providing supplemental pharmacy professionals for all pharmacy practice settings. As a member of our team, you'll enjoy a customized approach to your career needs as well as comprehensive benefits! Join our dynamic team, apply today!