Find Top Talent This Summer: 4 Recruiting Tips to Incorporate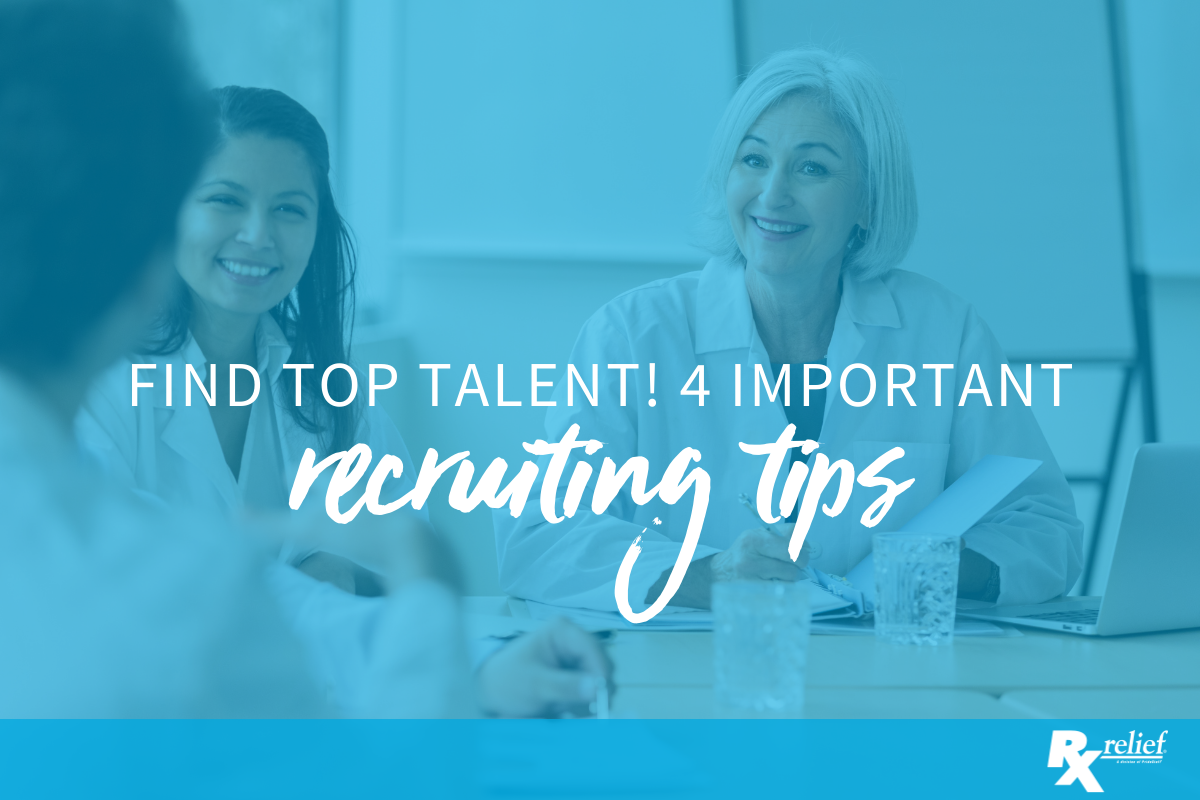 There are about half a million unfilled healthcare jobs in the United States, according to government estimates. Healthcare institutions are scrambling to find workers who have the needed skills. In these times, recruiting effectively is essential. Here are a few tips to help your healthcare organization find the talent it needs.
1. Proactive Recruiting
This involves going beyond posting job advertisements and recruiting through social media. It encompasses several different strategies.
You should have a recruiting plan or strategy, prioritizing which jobs need to be filled first and establishing the qualifications and skills you are looking for. You should plan out where and how you will recruit and who will be involved in the process.
You should maintain a job applicant database, past and present, so you will have a pipeline of possible hires when looking for new people.
You should also dig through your records to uncover data about the effectiveness of your recruiting practices. What methods are working, and which are not? What social media sites are job candidates using, and how did they get to your website?
2. Interesting job descriptions
Most of the time, job descriptions are written in prose that is achingly dull and tedious, the kind that puts job candidates to sleep rather than engaging them. They are often little more than laundry lists of job duties.
Make job descriptions more user-friendly by writing clear and direct prose, with short sentences, bullet points, and headings. Make them more interesting by telling why someone would want to work at your institution or healthcare business. Tell a story about your organization.
3. Referrals
Another good way to find passive job candidates is through referrals from employees. Employees have their own networks and are in contact with others in their profession. They would know who might be willing to make a move for the right offer. They also know who the best people are and those who would fit in with the culture at your healthcare organization.
4. Institutional Branding
To find passive candidates, the roles in the hiring process are reversed. Usually, it is the candidate who sells himself or herself to a company, detailing their skills, knowledge, experience, and accomplishments. But to attract job candidates, healthcare organizations need to sell themselves, explaining what they have to offer and why they are such a great place to work.
One of the best places to do this is the organization's website. It should not just talk about products or services, but what it is like to work there. It should include information about the organization's mission, goals, and values, prominently placed. It should also contain profiles of staff members and comments from them.
You need to tell a story about the healthcare organization and its purpose and highlight the people who work there. This may help pique the interest of those who visit the site and motivate them to look for more information or contact someone.
Recruit Top Pharmacists with Rx relief
Rx relief is one of the top recruiting firms for pharmacists, taking a personalized approach to each of the pharmacy professionals we place. Rx relief is certified by the Joint Commission and has received a Best of Staffing award, based on the votes of healthcare client organizations and pharmacists. If your healthcare facility is looking for pharmacy professionals, contact Rx relief today.