Career Spotlight: Pharmacy Technicians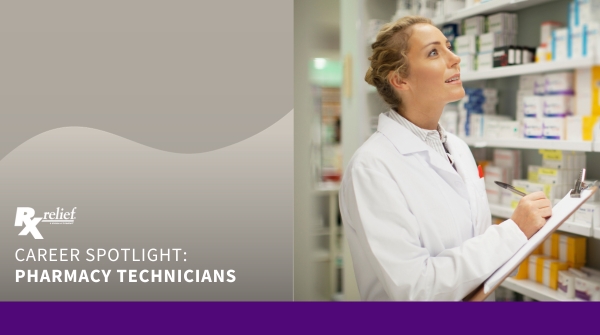 A pharmacy technician is a vital member of the healthcare team, responsible for supporting pharmacists in dispensing medications, maintaining accurate records, and providing excellent customer service. They play a critical role in ensuring that patients receive safe and effective medications while also contributing to the efficient functioning of a pharmacy.
Roles and Responsibilities of a Pharmacy Technician:
Medication Dispensing
Pharmacy technicians assist pharmacists in preparing and dispensing prescription medications. They may count pills, prepare medication labels, and package prescriptions.
Inventory Management
Technicians help manage pharmacy inventory by ordering, receiving, and organizing medications and supplies. They also monitor stock levels and ensure that medications are stored properly.
Customer Service
Pharmacy technicians interact with patients, answering questions about medications, providing information on dosage instructions, and addressing prescription-related concerns.
Data Entry
They enter prescription and patient information into computer systems accurately to maintain patient records and ensure compliance with regulatory requirements.
How to Become a Pharmacy Technician:
Education
While formal education is not always required, most pharmacy technicians complete a pharmacy technician training program, which can be found at community colleges, vocational schools, or online. These programs typically last from 6 months to 2 years and cover topics such as pharmacy law, medication dosage calculations, and drug interactions.
Certification
Many states require pharmacy technicians to be certified. The most widely recognized certification is the Certified Pharmacy Technician (CPhT) credential offered by the Pharmacy Technician Certification Board (PTCB). To become certified, candidates must pass the PTCB exam, which assesses their knowledge and skills in pharmacy practice.
State Licensure
Some states also require pharmacy technicians to obtain a state license in addition to national certification. Licensure requirements vary by state but often involve passing an exam or completing continuing education.
On-the-Job Training
Some people become pharmacy technicians through on-the-job training. They start as pharmacy clerks or assistants and learn the necessary skills while working under the supervision of a licensed pharmacist.
Career Advancement for Pharmacy Technicians:
Pharmacy technicians have opportunities for career advancement and specialization, including:
Certified Pharmacy Technician (CPhT)
Earning and maintaining national certification demonstrates expertise and can lead to higher pay and increased job opportunities.
Specialization
Technicians can specialize in areas such as sterile compounding, nuclear pharmacy, or chemotherapy preparation, which may require additional training and certification.
Pharmacy Technician Supervisor or Lead
Experienced technicians can advance to supervisory roles, overseeing other pharmacy technicians and support staff.
Further Education
Technicians who wish to advance their careers further can pursue additional education, such as a bachelor's degree in pharmacy or pharmacy management, to become pharmacists.
If you are a pharmacist looking for your first job or a new career challenge, join one of the nation's leading pharmacist placement firms.
Voted Best of Staffing by both clients and talent, Rx relief is a specialty staffing company providing supplemental pharmacy professionals for all pharmacy practice settings. As a member of our team you'll enjoy a customized approach to your career needs as well as comprehensive benefits! Join our dynamic team, apply today!