After 14 Years as an Rx relief Employee, This Contract Pharmacy Manager Feels More Like Family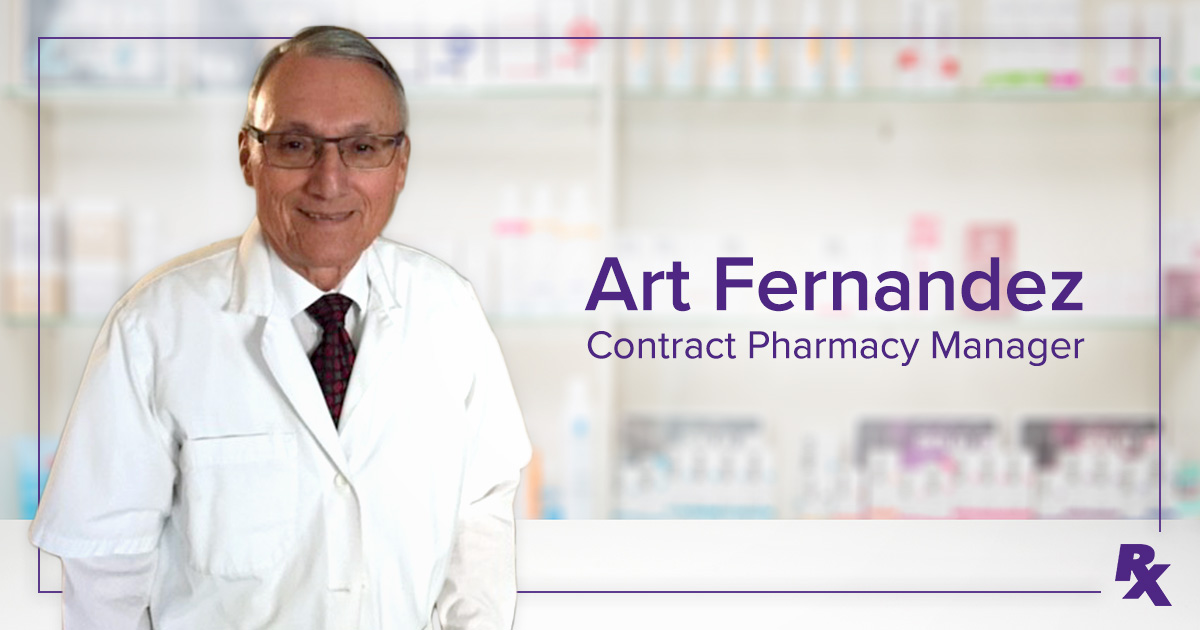 Challenge. Opportunity. Competitive compensation. Amazing personal and professional relationships.
A pharmacy career with Rx relief provides all of these and more – but don't take our word for it! Recently, we had the pleasure of interviewing Art Fernandez, a pharmacy professional who has worked through Rx relief for over 14 years. During this time, he's earned an amazing reputation (clients request him by name) and he's built personal relationships with our team that make him feel like a part of our family.
Here's a little background information on Art's impressive career, his most memorable experiences as an Rx relief contract pharmacy manager and his advice for early career professionals:
About Art
After earning an associate degree from College of the Sequioas, Art attended Fresno City College, joined the U.S. Marine Corps and then completed his B.S. in Pharmacy at the University of New Mexico. Upon completing pharmacy school, Art worked in a variety of settings – ranging from owning and running his own pharmacy, to working for independent pharmacies, to managing retail pharmacy operations.
How did you first hear about Rx relief?
Art: After I graduated (which was over three decades ago!), I became friends with Carl Franklin, Executive Vice President at Rx relief. At the time, he was working as a Pharmacy Manager with them and covered shifts for me a few times. When the retail pharmacy I was working for restructured, I decided to contact Rx relief and make a career as a contract Pharmacy Manager. That was over 14 years ago. While I've recently retired from full-time work, I still accept assignments when they need me.
14 years is a long time. Why have you stayed working for Rx relief for so long?
Art: Over the years I've come to know most of the people on Rx relief's team, and they've always treated me incredibly well. If I ever had to turn down an assignment, they were professional and accommodated my preferences. I've always gotten along with them so well, they feel more like family to me than employers.
Surprisingly, since I've retired, I've grown even closer to these amazing people. They are a team of true professionals with fantastic personalities. It's been a great ride with them.
Thinking back over your career with Rx relief, what has been your most memorable assignment?
Art: I've had so many different experiences, but two stand out:
I was dispatched to manage a mail order pharmacy in Bakersfield, California that specialized in just eight pulmonary medications. I'd never worked in this type of setting before, and I was amazed to walk into an immense warehouse with a pharmacy nestled inside it. I really enjoyed the contract because their specialization and setup allowed me to be extremely efficient.
Another one of my favorite assignments was with a pharmacy in Los Banos, California. When I walked into their location my immediate reaction was: "Whoa – that's the biggest counter I've ever seen in a pharmacy!" They served breakfast, lunch and coffee there. Honestly, I thought that type of pharmacy was extinct, so it was great to see.
When I walked in, one of the team members ordered me breakfast. They fed me two meals each day and thank goodness – they were busy! I had great technicians to support me there and even a dispensing robot to automate pill-counting for their 50 highest-volume drugs. It was an unforgettable experience.
What do you enjoy most about your work as a contract pharmacist?
Art: I've always appreciated the freedom to accept or reject work opportunities, but mostly I enjoy the people. It's really that simple.
If you could give an early career pharmacist one piece of advice, what would it be?
Art: Stay humble, behave professionally and focus on learning. Even if you're rapidly promoted into management, keep a level head and look for opportunities to learn from every assignment.
Could a career as a contract pharmacy professional be right for you?
Give Rx relief a call. As a Joint Commission Certified and GSA approved pharmacy placement firm with over 60 years of combined pharmacist experience, we connect talented pharmacists and technicians with temporary and direct positions in a variety of clinical settings and areas of specialization.
Rx relief is here to help you create a career path in which you make a positive impact on patient outcomes – while earning the compensation you deserve. Contact a Rx relief recruiter today or search our job board to learn more about available opportunities.