Rx relief Wins Inavero's Best of Staffing Diamond Awards for Client and Talent Satisfaction
March 5, 2015
---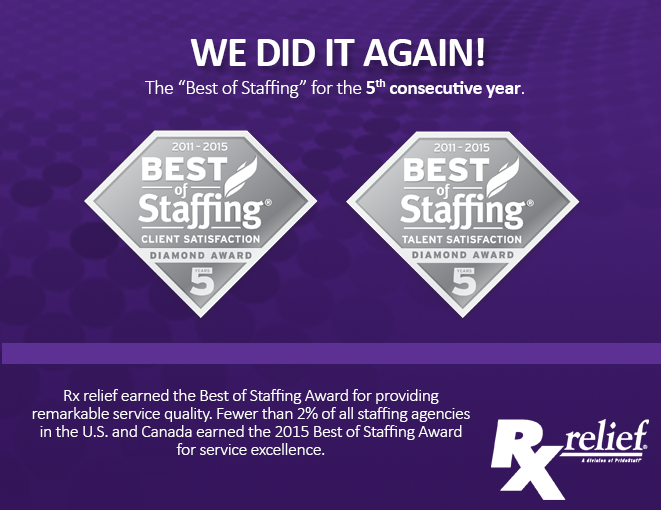 FRESNO, CA – PrideStaff and the PrideStaff companies including PrideStaff Financial and Rx relief, announced they have been named as one of Inavero's 2015 Best of Staffing® Award winners. This marks five or more consecutive years of making the list which has also earned the 2015 Best of Staffing Diamond Award designation, placing PrideStaff in a truly elite group of staffing companies.
Presented in partnership with CareerBuilder, the Best of Staffing Award provides the only statistically valid and objective service quality benchmarks in the industry, revealing which staffing agencies are providing the highest satisfaction to their clients and talent. With client and talent satisfaction scores more than three times higher than the industry average, award winners make up less than two percent of all staffing agencies in the U.S. and Canada who earned the Best of Staffing Award for service excellence.
In addition to earning this prestigious Best of Staffing award, PrideStaff further distinguished itself by becoming the only commercial staffing company with revenues over $100mm to earn the Diamond Award for both client and talent satisfaction two years in a row. This designation is unprecedented in the staffing industry and places PrideStaff's level of customer satisfaction into elite status, rivaling the world's leading companies.
"We are extremely proud to become the only commercial staffing firm in the U.S. and Canada with over $100 million in revenue to earn the Diamond award for both client and talent satisfaction two years in a row," said PrideStaff COO Tammi Heaton. "This honor demonstrates that PrideStaff continues to deliver a large national firm's comprehensive range of services and deep resources, while maintaining our commitment to providing hands-on service to our clients, candidates and the community at each of our locations. Consistent service delivery is at the heart of our corporate mission and has helped PrideStaff become one of the largest U.S. staffing firms."
"With a tightening labor market and a need for growing companies to stay flexible, staffing agencies are placing more people into employment opportunities than at any other point in U.S. history," said Inavero's CEO, Eric Gregg. "More companies and job seekers than ever before need a staffing agency with a proven commitment to service excellence. Bestofstaffing.com is the place to find winning agencies working in your city and area of expertise. We are incredibly proud of the accomplishment of our 2015 award recipients."
"Our clients are facing a talent shortage and our goal is to provide them with every competitive advantage we can," continued Heaton. "By focusing on not only client satisfaction, but also talent satisfaction, we're able to help improve the recruitment and retention of top performers. In a tightening labor market, we have positioned PrideStaff as a top employer, enabling our clients to secure the talent they need to succeed and providing our employees with outstanding opportunities."
About PrideStaff
PrideStaff was founded in the 1970s as 100 percent company-owned units and began staffing franchising in 1995. They operate over 60 offices in North America to serve over 4,500 clients. With over 40 years in the staffing business, headquartered in Fresno, CA, PrideStaff offers the resources and expertise of a national firm with the spirit, dedication and personal service of smaller, entrepreneurial firms. For more information on our services or for franchise information, visit www.pridestaff.com.
PrideStaff's Mission: Consistently provide client experiences focused on what they value most.
About Inavero
Inavero administers more staffing agency client and talent satisfaction surveys than any other firm in the world. Inavero's team reports on over 1.2 million satisfaction surveys from staffing agency clients and talent each year and the company serves as the American Staffing Association's exclusive service quality partner.
About Inavero's Best of Staffing
Inavero's Best of Staffing® Award is the only award in the U.S. and Canada that recognizes staffing agencies that have proven superior service quality based completely on the ratings given to them by their clients and job candidates. Award winners are showcased by city and area of expertise on BestofStaffing.com – an online resource for hiring professionals and job seekers to find the best staffing agencies to call when they are in need.
Inavero's complete Best of Staffing lists can be viewed at www.bestofstaffing.com. For more information about Inavero, visit www.inavero.com. To learn more about PrideStaff, visit http://www.PrideStaff.com.
---
« Return to press room