Rx relief® Receives 2022 Best of Staffing® Employee Award for Service Excellence
February 1, 2022
---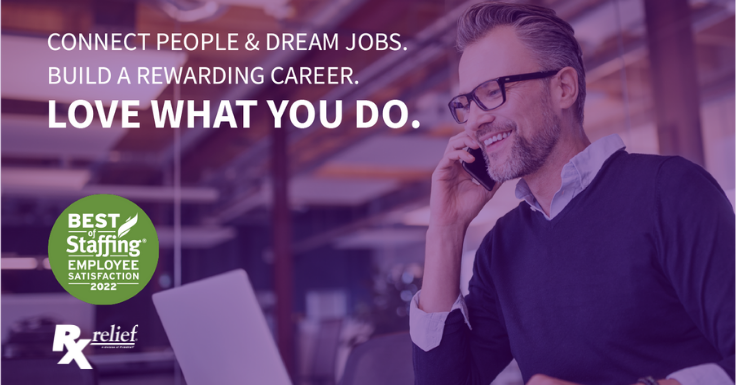 Rx relief, part of The PrideStaff Companies, is pleased to announce that they have earned one of ClearlyRated's Best of Staffing® Employee Awards for providing an exceptional experience to their internal employees.
Rx relief has won this award every year since it was launched, which recognizes agencies for excellence in employee satisfaction based solely on ratings provided by their staff. To participate in the Best of Staffing award program for employee satisfaction, a firm must invite feedback from 100% of their internal staff on the overall experience of working at the firm, This year:
Rx relief received a world-class Net Promoter® Score from their internal employees that significantly exceeded the staffing industry average of 57.
Rx relief received satisfaction scores of 9 and 10 from nearly 85% of their internal employees.
The organization is also the only firm dedicated to pharmacy staffing in the U.S. and Canada to earn Clearly Rated's Best of Staffing Client Award for thirteen consecutive years and their Talent Award for twelve consecutive years, as well as winning the new 10-Year Diamond Award for both client and talent satisfaction. Rx relief's 2022 NPS scores, coupled with their steady track record of employee satisfaction excellence, proves that Rx relief is truly a cut above the rest, an outstanding partner for their clients and candidates and a great place to work.
"We are honored to win a Best of Staffing Employee Satisfaction Award for the second year in a row, and to be recognized as a leader in employee experience by our internal staff," said PrideStaff COO, John-Reed McDonald. "This award is especially meaningful because it's based entirely on anonymous employee ratings, during a year of ongoing challenges for our industry.
"Rx relief's leadership works hard to create an environment that celebrates individuality, provides meaningful work, and supports professional growth," continued McDonald. "The spirit of our mission statement, 'Consistently provide client experiences focused on what they value most,' also extends to our employees. Ultimately, we remain a cut above the competition by adapting to meet the evolving needs of our staff; happy, satisfied employees work even harder to drive results for our pharmacy clients and professionals."
"Winners of the 2022 Best of Staffing award have demonstrated their commitment to delivering exceptional service, even as COVID-19 has forced them to reimagine and rebuild their approach to business," said ClearlyRated's CEO and Founder, Eric Gregg. "These service leaders have kept the client, talent, and employee experience at the heart of their business strategy, and it's my honor to celebrate and showcase the 2022 Best of Staffing winners, alongside feedback from their actual clients on ClearlyRated.com!"
About Rx relief
A division of PrideStaff, Rx relief is a Joint Commission Certified and GSA-approved pharmacy placement firm providing temporary and full-time pharmacy professionals for all pharmacy practice settings. The parent company was founded in the 1970s as 100% company-owned units and began staffing franchising in 1995. They operate over 85 offices in North America to serve over 5,000 clients. With 40 plus years in the staffing business, headquartered in Fresno, CA, all PrideStaff brands offer the resources and expertise of a national firm with the spirit, dedication and personal service of smaller, entrepreneurial firms. For more information on Rx relief services, visit our website.
PrideStaff and Rx relief's shared Mission: Consistently provide client experiences focused on what they value most.
About ClearlyRated
Rooted in satisfaction research for professional service firms, ClearlyRated utilizes a Net Promoter® Score survey program to help professional service firms measure their service experience, build online reputation, and differentiate on service quality. Learn more here.
About Best of Staffing
ClearlyRated's Best of Staffing® Award is the only award in the U.S. and Canada that recognizes staffing agencies that have proven superior service quality based entirely on ratings provided by their clients, placed talent, and internal employees. Award winners are showcased by city and area of expertise on ClearlyRated.com—an online business directory that helps buyers of professional services find service leaders and vet prospective firms with the help of validated client ratings and testimonials.
---
« Return to press room