PrideStaff Memphis, PrideStaff North Dallas and Rx relief Team Named Winners of PrideStaff's Prestigious "Mile High" Award
March 3, 2022
---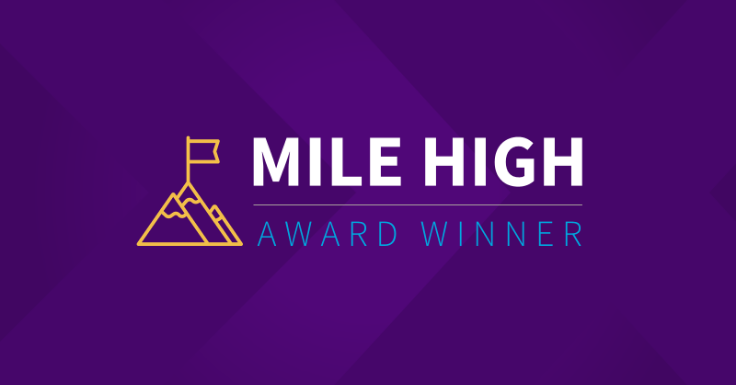 In recognition of amazing achievements in revenue growth, leadership and serving others, The PrideStaff Companies proudly named the leaders of PrideStaff Memphis, PrideStaff North Dallas and Rx relief's southern California team as winners of the Mile High Award at their recent annual conference in Atlanta, GA.
This honor, so named because it originated in Denver, Colorado, is not an annual award; the nationally franchised staffing organization presents it only in years when an office or team distinguishes itself with a major, "mile high" achievement. For the first time ever, PrideStaff recognized three Mile High Award winners in a single year.
Led by Owner/Strategic-Partner, Jeremy Thacker-Rhodes, PrideStaff Memphis has been on the top of the national staffing franchise's ranking lists for years, and 2021 was no exception. Last year, Thacker-Rhodes refused to let the pandemic and candidate shortages derail their success, relentlessly focusing on gaining new clients and expanding their business. The secret to PrideStaff Memphis' success is following the basics to keep their growth on track, including making sales calls, proactively recruiting, holding job fairs, providing exceptional customer service and living PrideStaff's corporate mission. With this team, the glass is always half full, and they can't wait to see how much more they can achieve in 2022.
Amy Linn and Julie Vicic, Owners/Strategic-Partners of PrideStaff North Dallas, have been recognized throughout the years with a multitude of awards for outstanding results, exceptional leadership and important contributions to the PrideStaff system. But in 2021, this leadership team shined even brighter. Linn and Vicic focused on caring for their team. They relied on the culture they built. They trusted their system and stayed consistent in their efforts, despite the challenges their team faced. On top of everything, the team expanded their operations by opening their Dallas Downtown office and launching a G.A. Rogers & Associates professional recruiting division. All of these efforts yielded a tremendously successful year for PrideStaff North Dallas, including substantial top-line growth, a move to a more strategic location, and several new hires and internal promotions.
Executive Vice President, Dr. Angela Chandna Pootrakul and Sherrie Diehl, Director of Staffing, leaders and pharmacy professionals of Rx relief's Southern California team, were named one of the Mile High Award recipients. They worked tirelessly to staff critical pharmacist and pharmacy technician roles in major hospital systems and medical facilities throughout their market. By performing at an extremely high level during one of the most difficult years for both pharmacy professionals and recruiters, Rx relief made a significant impact on it's community as they continued to place front line heros in light of the global COVID 19 pandemic.
"Like any other Strategic-Partner or PrideStaff team in the system, the winners of this year's Mile High Awards had to navigate a changing landscape with no map," stated PrideStaff Co-CEO, Tammi Heaton. "Just as they turned one corner and set a new direction, unexpected challenges appeared around the next – and those challenges kept coming. But when faced with the unknown, these exceptional individuals stood tall, acted decisively to achieve great success."
"The fact that three teams earned this recognition in a single year speaks not only to their individual success, but also to the strength of the entire franchise," continued Heaton. "Though economic and labor market conditions may change, we've built an agile and resilient organization that helps Strategic-Partners thrive – while driving success for the employers and job seekers we serve. Congratulations to the Memphis, North Dallas and Rx relief southern California teams for their mile-high achievements. Their relentless hard work is evident in their 2021 results, and it will continue fueling profitable growth for years to come."
By investing in the client and talent experience, PrideStaff has become the only staffing firm in the U.S. and Canada with over $100 million in annual revenue to earn ClearlyRated's coveted Best of Staffing® 10-Year Client and Talent Diamond Awards for three consecutive years. The 10-year Diamond Award is earned by fewer than 0.5 percent of all staffing firms, placing PrideStaff in a truly elite group of companies that lead the industry in satisfaction.
About PrideStaff
PrideStaff was founded in the 1970s as 100% company-owned units and began staffing franchising in 1995. They operate over 85 offices in North America to serve more than 5,000 clients and are headquartered in Fresno, CA. With 40 plus years in the staffing business, PrideStaff offers the resources and expertise of a national firm with the spirit, dedication and personal service of smaller, entrepreneurial firms. PrideStaff is the only nationwide, commercial staffing firm in the U.S. and Canada with over $100 million in annual revenue to earn ClearlyRated's prestigious Best of Staffing Diamond Awards nine years in a row, highlighting exceptional client and talent service quality.
For more information on our services, or for staffing franchise information, visit our website.
---
« Return to press room