Carl Franklin, RPh, Inducted to California Pharmacists Association Pharmacy Hall of Fame
April 17, 2018
---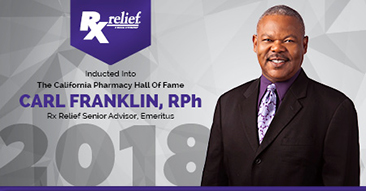 Rx relief, a PrideStaff company, is pleased to announce that Carl Franklin, RPh and Senior Advisor, Emeritus, has been inducted to the California Pharmacists Association Pharmacy Hall of Fame.
The California Pharmacy Hall of Fame recognizes individuals who are, or have been, an inspiration to the practice of pharmacy in California, as exemplified by their long and distinguished history of service, as well as achievement in the areas of character, innovation, trend setting and altruism.
A pharmacist for over 40 years, Franklin began working for Rx relief in 1990 after selling his own pharmacy. When PrideStaff acquired Rx relief in 1997, Founder and CEO George Rogers installed Franklin as its Vice President/General Manager and promoted him to Executive Vice President in 2003. During his tenure, Franklin helped grow the leading pharmacy staffing firm from $1.1 million to $27 million in revenue. He is a board member for the Central Valley Pharmacists Association, formerly known as the Fresno-Madera Pharmacists Association, as well as a member of several other associations: APhA (American Pharmacists Association), ASHP (American Society of Health-System Pharmacists), CPhA (California Pharmacists Association), CSHP (California Society of Health-System Pharmacists), AMCP (Academy of Managed Care Pharmacy), and the Sierra Society of Health-Systems Pharmacists.
"Becoming a pharmacist has been my lifelong dream, starting when I was 15 years old," said Carl Franklin, RPh, Senior Advisor, Emeritus, Rx relief. "I've always wanted to provide the best service I could for the young and the old, the rich and the poor. I enhanced my dream by continuously adding skill sets to be able to bring value where I could."
"I've never worked for any accolades and I never anticipated any recognition," Franklin continued. "Being inducted into the California Pharmacy Hall of Fame is the highlight of my career as a pharmacist, and to be recognized by the profession I love so much is the pinnacle for me. It means I've practiced pharmacy in a manner respected by my peers and colleagues."
"Throughout his career, Carl's exceptional character, strong leadership and commitment to bettering the whole field of pharmacy have fueled Rx relief's growth to its current position as the largest pharmacy specialty staffing company in the U.S.," said PrideStaff Founder and CEO George Rogers. "Since Carl's retirement in 2017, Rx relief has continued to grow, which is a powerful testament to the soundness of the organization he so successfully built. He has been an inspiration to the practice of pharmacy, helping countless pharmacists find career-building opportunities, and he richly deserves his place in California's Pharmacy Hall of Fame."
This latest honor comes on the heels of several other marks of distinction for Carl Franklin and his team. Earlier this year, Rx relief earned Inavero's coveted 2018 Best of Staffing® Client and Talent Diamond Awards, after winning the Best of Staffing Client and Talent Awards for the last five years in a row for providing superior service to their clients and job seekers. Rx relief is the only staffing firm dedicated to pharmacy staffing in the U.S. and Canada to earn Diamond Awards four years in a row. In 2017, Rx relief, employee Brenda Riser, was named a 2017 National Staffing Employee of the Year All-Star by the American Staffing Association (ASA), and the pharmacy placement firm also received a 2017 ASA Genius Grand Award in the Digital Media category for Staffing Firms with More than $100 Million in Annual Sales class.
About Rx relief
A division of PrideStaff, Rx relief is a Joint Commission Certified and GSA approved pharmacy placement firm providing temporary and full-time pharmacy professionals for all pharmacy practice settings. The parent company, PrideStaff, was founded in the 1970s as 100 percent company-owned units and began staffing franchising in 1995. They operate over 80 offices in North America to serve over 5,000 clients. With over 40 years in the staffing business, headquartered in Fresno, CA, all PrideStaff brands offer the resources and expertise of a national firm with the spirit, dedication and personal service of smaller, entrepreneurial firms. For more information on Rx relief services or for franchise information, visit or www.rxrelief.com.
PrideStaff and Rx relief's shared Mission: Consistently provide client experiences focused on what they value most.
---
« Return to press room