What Work Settings Are Possible for Pharmacy Professionals?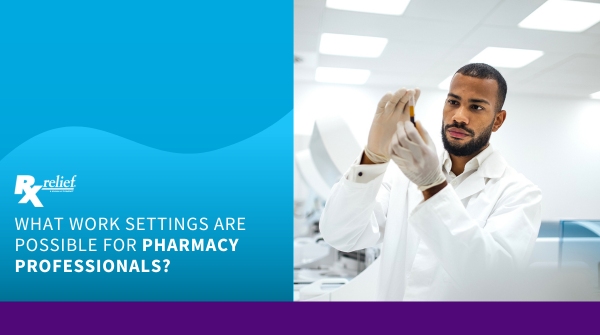 Pharmacists play a crucial role in the healthcare industry, ensuring the safe and effective use of medications and providing valuable healthcare services to patients. Beyond the traditional role of working in retail or hospital settings, pharmacists have various career paths and opportunities. Here are some different types of jobs open to pharmacists:
Clinical Pharmacists
Clinical pharmacists work closely with healthcare teams in various healthcare settings, including hospitals, clinics, and long-term care facilities. They conduct medication reviews, offer medication therapy management (MTM) services, and make recommendations to optimize drug therapies for patients with complex medical conditions.
Industrial Pharmacists
Industrial pharmacists work in pharmaceutical companies and play essential roles in drug research, development, and manufacturing. They may be involved in drug formulation, quality control, regulatory affairs, or clinical trials to ensure compliance with industry regulations.
Research Pharmacists
Research pharmacists work in research institutions, universities, or pharmaceutical companies to study drug interactions, efficacy, and safety. They conduct clinical trials, analyze data, and contribute to advancements in pharmaceutical sciences.
Compounding Pharmacists
Compounding pharmacists specialize in preparing personalized medications for patients with unique medical needs, allergies, or dosage requirements. They work in specialized compounding pharmacies, creating customized formulations of medications.
Nuclear Pharmacists
Nuclear pharmacists work in nuclear medicine facilities, handling and dispensing radiopharmaceuticals used in diagnostic and therapeutic procedures. They ensure the proper handling and administration of radioactive drugs.
Consultant Pharmacists
Consultant pharmacists work independently or for consulting firms, advising healthcare facilities on medication management for elderly or long-term care patients. They focus on medication safety, adherence, and cost-effectiveness.
Ambulatory Care Pharmacists
Ambulatory care pharmacists provide pharmaceutical care in outpatient clinics, physician offices, or specialized healthcare centers. They offer medication management services for chronic conditions, chronic disease education, and medication adherence support.
Telepharmacy Pharmacists
Telepharmacy is an emerging field where pharmacists provide remote pharmaceutical services through telecommunication technology. They verify prescriptions, counsel patients, and ensure medication safety and adherence through virtual interactions.
These are just a few examples of the diverse career paths open to pharmacists. The field of pharmacy continues to evolve, offering pharmacists opportunities to work in various sectors and take on roles that fit with their interests and expertise.
If you are a pharmacist looking for your first job or a new career challenge, join one of the nation's leading pharmacist placement firms!
Voted Best of Staffing by both clients and talent, Rx relief is a specialty staffing company providing supplemental pharmacy professionals for all pharmacy practice settings. As a member of our team, you'll enjoy a customized approach to your career needs as well as comprehensive benefits! Join our dynamic team, apply today