Three Questions to Ask Before Relocating for Work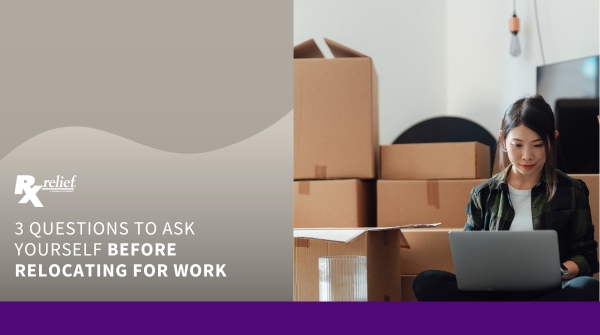 Relocating for work is a significant life decision that involves a range of practical, emotional, and logistical considerations. Before making such a move, it's essential to ask yourself a few critical questions to ensure you're making a well-informed choice that aligns with your goals and values. Here are three questions to contemplate before embarking on a job-related relocation:
What are my career goals, and how does this relocation support them?
Assess whether the new opportunity aligns with your long-term career aspirations. Consider whether the relocation offers you the chance to learn new skills, gain valuable experience, or progress up the career ladder. Weigh the potential for professional growth against the challenges of moving and determine if the new location's job market matches your ambitions.
How will this relocation impact my personal life and well-being?
Relocating affects more than just your job; it influences your personal life as well. Think about how the move will impact your relationships, family, social networks, and lifestyle. Consider the proximity to loved ones, the availability of recreational activities, and the overall quality of life in the new location. Assess whether the potential benefits of the job outweigh the potential disruptions to your personal life.
What is the cost of living in the new location, and how does it compare to my current situation?
Research the cost of living in the new area to understand how your expenses might change. Take into account housing costs, transportation, taxes, and other essential expenditures. Compare these figures to your current location to determine whether the compensation package offered for the new role adequately supports your financial needs and goals.
In addition to these questions, consider investigating the company's support for relocation, including whether they offer help with moving expenses, temporary housing, or other relocation benefits. It's also beneficial to reach out to people who have experience living and working in the new location to gather insights about the area's lifestyle, job market, and overall atmosphere.
The decision to relocate for work should be made only after a comprehensive evaluation of both your professional and personal priorities. Balancing your career aspirations with the impact on your well-being and loved ones will help you make a choice that aligns with your values.
If you are a pharmacist looking for your first job or a new career challenge, join one of the nation's leading pharmacist placement firms.
Voted Best of Staffing by both clients and talent, Rx relief is a specialty staffing company providing supplemental pharmacy professionals for all pharmacy practice settings. As a member of our team you'll enjoy a customized approach to your career needs as well as comprehensive benefits! Join our dynamic team, and apply today!