Five Career Alternatives for New PharmD Graduates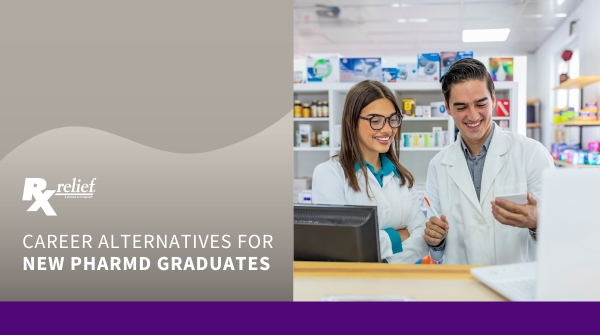 PharmD graduates have acquired a unique skill set that extends beyond traditional pharmacy roles. While many graduates pursue careers in pharmacy practice, there are several alternative career paths available where they can use their expertise and provide diverse opportunities. Here are five career alternatives for new PharmD graduates to consider:
Pharmaceutical Industry
PharmD graduates can explore opportunities in the pharmaceutical industry, working for pharmaceutical companies in various jobs. Jobs such as medical science liaisons, clinical research associates, regulatory affairs specialists, or drug safety associates allow them to contribute to drug development, clinical trials, medical affairs, and regulatory compliance. These positions often involve collaborating with healthcare professionals, conducting scientific research, and ensuring the safe and effective use of medications.
Medical Writing and Communications
With their in-depth knowledge of medications and patient care, PharmD graduates can pursue careers in medical writing and communications. They can work as medical writers, creating educational materials, scientific publications, and marketing content for pharmaceutical companies, healthcare organizations, or medical communications agencies. They can also contribute to healthcare journalism, writing articles, blogs, or providing expert insights on medication-related topics.
Healthcare Consulting
PharmD graduates can use their expertise to work as healthcare consultants, advising organizations on medication management, patient safety, or pharmacy operations. They can provide guidance on optimizing medication use, developing medication policies, conducting medication utilization reviews, or implementing quality improvement initiatives. Healthcare consulting firms, healthcare technology companies, or government agencies often seek PharmD graduates for these jobs.
Academic and Research Institutions
PharmD graduates interested in teaching and research can pursue careers in universities, research institutions, or think tanks. They can work in advancing pharmacy practice, pharmaceutical sciences, or health outcomes research. These positions often involve conducting clinical trials, analyzing data, publishing research findings, and educating future pharmacy professionals.
Public Health and Policy
PharmD graduates interested in public health and policy can explore careers in government agencies, nonprofit organizations, or public health institutions. They can contribute to public health initiatives, medication safety programs, or policy development related to pharmaceuticals. Roles such as medication safety officers, public health advisors, or pharmacy policy analysts allow them to make a broader impact on population health, medication access, and healthcare policy decisions.
At Rx relief, we focus on the elements that make each person unique.
We solicit feedback continually to make our service responsive to your needs. Rx relief has been rated among the Best of Staffing® firms by ClearlyRated. If you are looking for a pharmacy position, give Rx relief a call today.