Effectively Managing Migraines in the Pediatric Population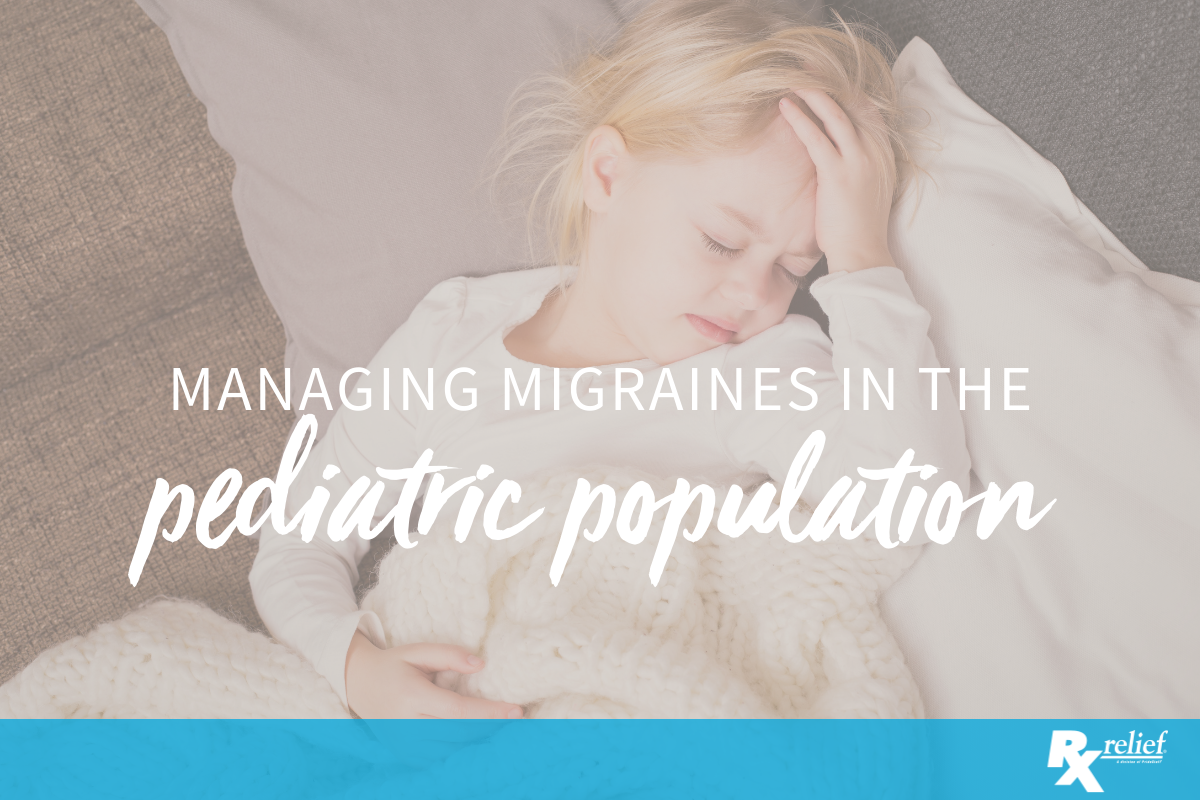 Migraines are severe, periodic headaches that can last anywhere from 2 to 48 hours. While the condition only afflicts 3 percent of preschool children, it can affect between 4 and 11 percent of elementary-age children, and 8 to 15 percent of those in high school.
Children can get migraines with and without auras, although those without an aura are much more common, affecting 60 to 85 percent of children. An aura includes seeing flashing lights, wavy lines, dots, or blurry vision. It occurs about 20 to 60 minutes before the actual migraine itself.
Treatment
The common treatment for migraines is quiet and bed rest. OTC pain relievers can also be given as part of the treatment, such as NSAIDS and analgesics.
Pain Relievers
However, physicians recommend limiting analgesics to two or three times a week. With NSAIDS, they recommend 8 to 10 milligrams of ibuprofen for each kilogram of body weight. Other drugs used to treat migraines include sumatriptan succinate. The recommended dose of 0.06 mg/kg was found to have an efficacy rate of almost 75 percent after 30 minutes, allowing recurrence in only 6 percent of those taking it.
For children suffering from nausea and vomiting, prochlorperazine maleate and metoclopramide hydrochloride are also helpful.
Preventive Measures
Some children get migraines more often, as many as three to four a month. For these children, preventive measures need to be taken. The most common medications used to prevent migraines are tricyclic antidepressants. A 1 mg/kg dose per day of amitriptyline has been shown to reduce the frequency of headaches in 80 percent of children.
However, amitriptyline can have side effects, such as nausea, vomiting, drowsiness, nightmares, and headaches. For this reason, physicians recommend titrating the dose over 8 to 10 weeks so that the child can handle the side effects.
Anticonvulsants
Another preventive measure is anticonvulsant therapy using divalproex sodium. A recent small-scale study in children ages 7 to 16 showed that the anticonvulsant effectively reduced migraines. The children received doses ranging from 15mg/kg to 45 mg/kg. In three-fourths of the patients, the number of migraines was cut in half. In one-fifth of the children, the number was cut by 75 percent, and about five percent had no migraines at all.
Connect with Rx relief Today
Rx relief is one of the nation's leading pharmacist placement firms. Voted Best of Staffing by both clients and talent, we are a specialty staffing company providing supplemental pharmacy professionals for all pharmacy practice settings. As a member of our team, you'll enjoy a customized approach to your career needs as well as comprehensive benefits. Join our dynamic team, apply today!