Not Even a Hurricane Could Stop Contract Pharmacy Technician Patrick Linzer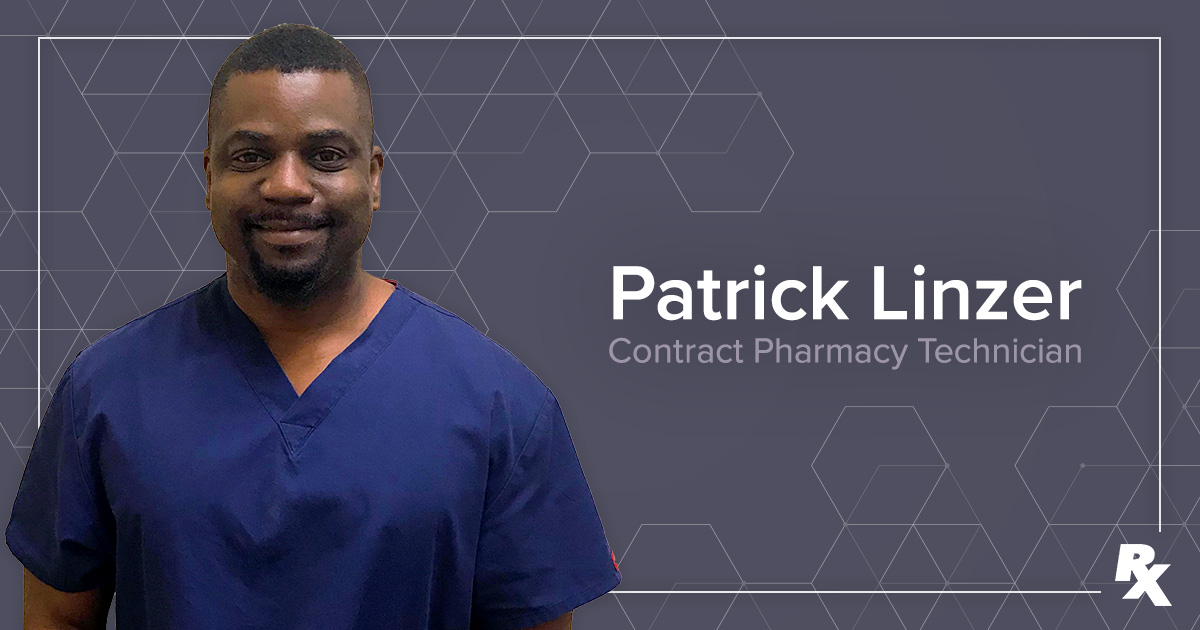 Today we're recognizing Patrick Linzer, a pharmacy professional who has logged over 2,848 hours during more than 100 shifts since starting with us in 2016.
Patrick is an amazing example of the dedication Rx relief pharmacy technicians show – and the dedication we show in return. When his home was flooded by Hurricane Harvey in 2017, Patrick worked as a travel pharmacy technician – accepting all shifts Rx relief offered him and serving others in need during a time that his life was turned upside down. To show our appreciation for his hard work, we gathered a donation on his behalf to provide some relief in his time of need.
Travel opportunities through Rx relief proved to be a great fit for Patrick following the hurricane; he had a place to live and was consistently employed while his home was being restored. Here's his story, and what he says about his experience working as an Rx relief pharmacy technican:
About Patrick
I entered the pharmacy field because of my sister, a nurse in Houston. Her friend, a pharmacy director, was hiring bright professionals as pharmacy technicians. With a liberal arts bachelor's degree, I had honestly never considered a career in pharmacy. The opportunity sounded interesting, so I decided to give it a shot.
I'm so glad I did; I quickly developed a passion for the work and the people.
Q: How did contract pharmacy work help you following the hurricane?
Patrick: When Hurricane Harvey hit Houston, it devastated the entire region. My home had extensive water damage and I had to move out. Rx relief turned out to be a silver lining for me during this difficult period, putting me to work as a travel pharmacy technician.
Since the contracts required travel, Rx relief helped with housing (either providing a hotel or reimbursing me for travel expenses). Working as a travel pharmacy technician allowed me to learn more about new pharmacy environments, meet amazing new people, work consistently and have a "home away from home" while my flood damage was repaired.
Q: Why did you choose and stay with Rx relief?
Patrick: From the moment I was contacted by Rx relief, I felt like a part of the team. I've always been treated very professionally and felt like a partner in their mission, both of which are very important to me. I'm not just a temp or a number to Rx relief or their clients; I perform important work to improve patient outcomes and help individuals have a more relaxing experience when receiving cancer treatment.
Q: Where are you headed with your pharmacy career?
Patrick: Currently, I'm on contract through Rx relief with Texas Oncology as a chemotherapy ad mixture technician, mixing and administering chemotherapy IVs. Working with chemo patients has proven to be both personally and professionally rewarding for me. Ultimately, learning about patients' hopes, needs and aspirations has helped me refine my career path. I'm currently pursuing my MBA in healthcare management, so I can create and implement policies that have a positive impact on patients.
Q: What advice would you give an early career pharmacy professional?
Patrick: Work hard and follow your heart. Stay open to listening and learning from everyone you meet, because it opens your eyes and widens your opportunities in different aspects of healthcare.
There's much more to a career in healthcare than just collecting a paycheck. Listening to others and hearing their stories…that's where the joy and purpose of pharmacy careers are defined.
Looking for the best pharmacy jobs?
Give Rx relief a call. As a Joint Commission Certified and GSA approved pharmacy placement firm with over 60 years of combined pharmacist experience, we connect talented pharmacists and technicians with temporary and direct positions in a variety of clinical settings and areas of specialization.
Rx relief is here to help you create a career path in which you make a positive impact on patient outcomes – while earning the compensation you deserve. Contact a Rx relief recruiter today or search our job board to learn more about available opportunities.